Yes, I know it hasn't been very long since I did one of these roundups. But here's the thing. I went on one of those request binges at the library and was deluged with books, so I read them all very quickly and didn't have time to devote to individual reviews. Actually, that's not completely true with this first one …
To be completely honest, I was afraid if I tried to do a full review on DAMAGE DONE by Amanda Panitch, I'd give too much away. It's billed as a YA GONE GIRL with good reason. If I could have justified it, I would have stayed up until 2 a.m. reading this book. Instead, I split it over two days. It's clear from the beginning the narrator is unreliable–she admits in the first chapter that she lied–but it's unclear about what until much later. I thought I knew what the final reveal would be, but there were still surprises, and I'm a very suspicious reader! Definitely check this one out.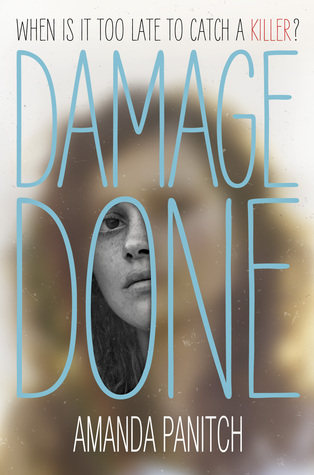 22 minutes separate Julia Vann's before and after.
Before: Julia had a twin brother, a boyfriend, and a best friend.
After: She has a new identity, a new hometown, and memories of those twenty-two minutes that refuse to come into focus. At least, that's what she tells the police.
Now that she's Lucy Black, she's able to begin again. She's even getting used to the empty bedroom where her brother should be. And her fresh start has attracted the attention of one of the hottest guys in school, a boy who will do anything to protect her. But when someone much more dangerous also takes notice, Lucy's forced to confront the dark secrets she thought were safely left behind.
One thing is clear: The damage done can never be erased. It's only just beginning. . . .
One more thing about this one, since I realized the description doesn't mention it but you'll find out very early in the book. It does involve a school shooting and there are other graphic details, so if you will find any of that difficult, this may not be the book for you.
---
It's no secret I love Sherry Thomas' Elemental Trilogy. I reviewed both THE BURNING SKY and THE PERILOUS SEA (still my favorite of the three), and these books topped my list of favorite YA reads for 2014. Yes, I could have written another full review for this one, but I'd still be listing the same things I love about it. Basically, it's an epic magical battle with a sweeping romance–the perfect end to the series.
In a pursuit that spans continents, Iolanthe, Titus, and their friends have always managed to remain one step ahead of the forces of Atlantis. But now the Bane, the monstrous tyrant who bestrides the entire mage world, has issued his ultimatum: Titus must hand over Iolanthe, or watch as his entire realm is destroyed in a deadly rampage. Running out of time and options, Iolanthe and Titus decide to act immediately and deliver a final blow to the Bane.
But getting to the Bane means accomplishing the impossible: finding a way to infiltrate his crypt in the deepest recesses of the most ferociously guarded fortress in Atlantis. And everything is only made more difficult when new prophecies come to light, foretelling a doomed effort…
Iolanthe and Titus will put their love and their lives on the line. But will it be enough?
---
I have a definite soft spot for books with celebrity characters. (That may be why I've written one 🙂 ). I never get tired of reading them, so when I saw the description for Jennifer E. Smith's THIS IS WHAT HAPPY LOOKS LIKE, I was intrigued. And when I started reading the emails between the two main characters, I was immediately hooked. I devoured this book in two days. What a poignant and believable love story. While I wanted to find out what happened after the end, I was satisfied with where Ms. Smith left the characters. I did go read the sequel novella, of course, but I would have been *happy* without it :). (Anyone who's read this book will get an extra kick out of those happy faces.)
When teenage movie star Graham Larkin accidentally sends small town girl Ellie O'Neill an email about his pet pig, the two seventeen-year-olds strike up a witty and unforgettable correspondence, discussing everything under the sun, except for their names or backgrounds. 
Then Graham finds out that Ellie's Maine hometown is the perfect location for his latest film, and he decides to take their relationship from online to in-person. But can a star as famous as Graham really start a relationship with an ordinary girl like Ellie? And why does Ellie want to avoid the media's spotlight at all costs?
---
I've read a couple of books in Bloomsbury's If Only series now, and they're just delightful. Kristin Rae's WISH YOU WERE ITALIAN has me itching to visit Italy, which is on my list anyway, but now it's become a higher priority :). Anyway, in addition to the excellent setting descriptions, the story surprised me with being more than the light YA romance I expected. Pippa's decision to take off on her own in Italy had to do with some underlying family issues I thought Ms. Rae handled well. I highly recommend this one!
Pippa has always wanted to go to Italy … but not by herself. And certainly not to sit in art school the entire summer learning about dead guys' paintings. When she steps off the plane in Rome, she realizes that traveling solo gives her the freedom to do whatever she wants. So it's arrivederci, boring art program and ciao, hot Italian guys!
Charming, daring, and romantic, Bruno is just the Italian Pippa's looking for—except she keeps running into cute American archeology student Darren everywhere she goes. Pippa may be determined to fall in love with an Italian guy … but the electricity she feels with Darren says her heart might have other plans. Can Pippa figure out her feelings before her parents discover she left the program and—even worse—she loses her chance at love?
---
So, there are a few books I'd recommend. Quite a variety this time–a psychological thriller, a fantasy, and two contemporary romances. Hopefully something that will interest each of you!
I still have a few more books from the library, plus I'm heading to the Scholastic Warehouse Sale in the next week, but feel free to pass along any recommendations you have for me!