I can't remember the last time I had two MMGMs in a row, but here we are! When I attended NESCBWI this spring, I met several middle grade writers, and I'm still working my way through the books I acquired. One of those books, RUBY REINVENTED, I picked up because I'd read a blog post by author Ronni Arno that included a blurb at the end. So blog tours definitely work! Also, the author herself is absolutely delightful.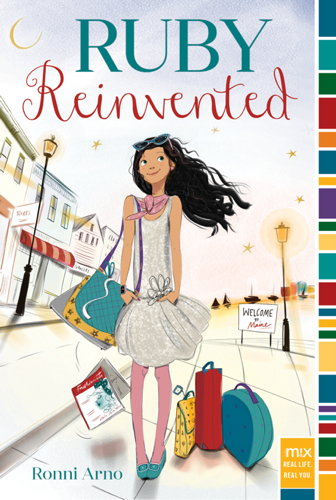 When 12-year-old Ruby Miller learns that her BFFs are only friends with her because of her famous parents, she finds a place far from celebrity-crazy Hollywood–a Maine boarding school.
In her panic to distance herself from her star-studded folks, Ruby tells her new friends that she's an orphan. She feels awful lying to her weird but wonderful roommate Summer (the first real friend Ruby has ever had), but not awful enough. In fact, now that nobody's comparing her to her remarkable parents, Ruby can finally let her unique talents as a dress designer take center stage.
But when Ruby finds herself connecting with a boy who really did lose his parents, she's torn between who she is and who she's pretending to be. And with Parents' Weekend approaching, she must find a way to keep her secret… without losing her new best friend, the trust of her first crush, and the chance to shine as the designer of her own fashion show.
Here are the five things I loved most:
1. Ruby's lie – Wait, you're probably thinking, you love that she lies? Well, no, I don't love that she lies. What I love is how this lie changes her. It's awful that she lies, but the lie is what leads to her discovering what's truly important–and it's not completely what she expects it to be.
2. The parents – Anyone who's been reading my blog knows I like to highlight parents, and I particularly like the two sets of parents featured in this book. First we have Ruby's parents, who are mega-stars. They love Ruby but perhaps have as much to learn as she does. And then there are Summer's parents, who give Ruby a glimpse of a different kind of family, without paparazzi and handlers. I like how both are handled in the book.
3. The crush – Ruby is so adorable with her crush on Connor, all mixed up with her guilt over not being honest with him. I really appreciated how they got to know each other and the resolution to their story.
4. The friendships – There's a reason friendship is the focus of so many MG books. Many kids base their worth on their friendships at this age. Ruby certainly does at the beginning of the book. While that's not healthy, it's a new friend who helps Ruby see her own value and gain confidence in herself. By the end of the story, I had hope for Ruby's future friendships and how she'll view her place in them.
5. The fashion – I loved that Ruby was passionate about fashion and had learned how to create her own designs with her nanny, Ellie. As a side note, her relationship with Ellie was also very sweet. The descriptions of the dresses really came to life, and the way they fit into the overall story was perfect.
If you haven't read RUBY REINVENTED, I recommend you pick it up!