As I began preparing this post, I was a bit shocked to see that I've read less than 100 books this year, although I have 11 days left, so I might be able to squeeze four more in :). However, one of the reasons I've read less in 2017 is that I returned to another passion–the violin.
While I've been playing in my church orchestra for years, I missed playing classically. So in August, I joined a local symphony orchestra, and a number of hours I used to spend reading each week are now devoted to rehearsals and practicing my violin. So it's a good reason for diverting reading hours!
The other factor is that I've been mixing in more adult books from my collection downstairs, going along with my post from August 2016 about the importance of reading just for fun, but incorporating these old favorites decreased the number of books I finished since adult novels are significantly longer.
If you're new to my favorite reads list, these books weren't necessarily published in 2017–I just read them in 2017. Also, I read fewer MG books, so I'm going to mix them in with the YA, and I'm not going to rank them. I'll just list them in alphabetical order by author, with links to my reviews. I do love to alphabetize 🙂 …
My 10 Favorite Reads of 2017
CARAVAL by Stephanie Garber – I love that a sibling relationship centers this book, but it also features a tension-filled romance, gorgeous prose, new twists in seemingly every chapter, and terrific pacing. Looking forward to the next book!
FOLLOW ME BACK by A.V. Geiger – I read this book in one day thanks to its unique format, gasp-out-loud twists, fantastic pacing, and an ending that has me anxiously anticipating the sequel. Actually, I just paused writing this post to pre-order it, and I'm sad it won't arrive until June :(.
NIGHTFALL by Shannon Messenger – If you've been following my favorite reads lists, this one won't surprise you. Shannon Messenger's Keeper of the Lost Cities series consistently ranks among my favorite middle grade reads every year, and this year's installment delivered with the same level of humor, adventure and intrigue. Can't wait for the next one!
ONCE UPON A KISS by Robin Palmer – I am such a sucker for time travel books, but add in humor, friendship, and romance, and I'm sold!
STORY THIEVES: SECRET ORIGINS by James Riley – I don't know why I don't have a review of this book. I think I must have read it during a time when I was too busy to write one, but this whole series is amazing, and you can read my review of the first book here. In this third installment, James Riley delivered jaw-dropping new twists, and he amazes me with his continued ingenuity. The next book is choose your own adventure :).
GEEK GIRL series by Holly Smale – While I'm not ranking these books overall, I'm going to make an exception for this series and say it was my favorite read of the year. I picked up the first book at the Scholastic Warehouse Sale last December and didn't get to it until the summer. Once I started reading, I COULD NOT STOP. And there are six books, plus novellas. And this became an issue because they are British and weren't all available in the U.S., and I had to wait TWO WEEKS for books four and five and it was agony. Anyway, these books made me laugh and cry, which is very rare. I only cry over relationship drama, so I really cared about these characters. I'll stop now. Just … you should read these.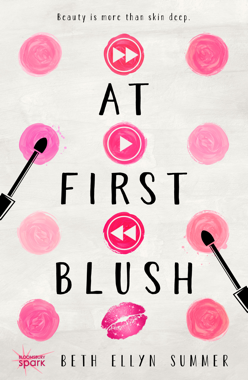 CATALYST and FORGOTTEN by Kristin Smith – A futuristic world with genetically modified teens, a sizzling love triangle, and twists that just keep coming! This series is yet to be complete, and I can't wait to see how it ends. Kristin was one of my mentors during Pitch Wars, so I was privileged to work with her one-on-one and to interview her about the books.
AT FIRST BLUSH by Beth Ellyn Summer – I love the famous-boy-falls-for-unimpressed-girl trope, plus there's an inside look at life as a teen YouTuber and a great friendship story. Beth was my other Pitch Wars mentor, and she also granted me an interview about her fabulous book.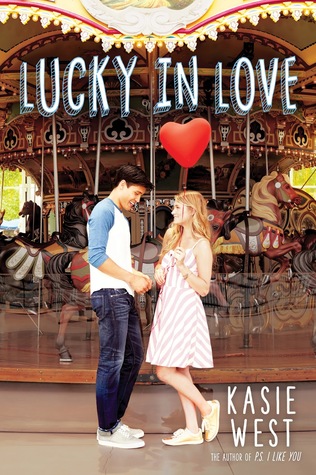 LUCKY IN LOVE by Kasie West – I predicted when I reviewed this book a couple weeks ago that it would make my list, and sure enough, here it is. An adorable romance, believable family dynamics, and a fun premise make this an excellent read. But really, Kasie West books make my list every year, so it's no surprise :).
EVERYTHING, EVERYTHING by Nicola Yoon – A book I put off reading because I thought it would be depressing and I was SO WRONG. It has humor, a romance with fantastic tension, and a unique storytelling structure. It delivers on so many levels, and there's even a movie to go with it :).
So that's it. What were your favorite reads this year? Any of the same?