When I finish a book with a huge grin on my face, it obviously deserves a review. But it's more than that–I raced through Rachel Hawkins's ROYALS in two nights, laughing out loud much of the time. I'm not surprised. I loved her Hex Hall and Rebel Belle series (and she's also written a middle grade I'm sure we should all check out). Anyway, here's what it's about.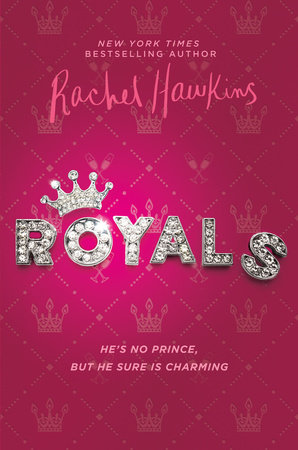 Meet Daisy Winters. She's an offbeat sixteen-year-old Floridian with mermaid-red hair, a part time job at a bootleg Walmart, and a perfect older sister who's nearly engaged to the Crown Prince of Scotland. Daisy has no desire to live in the spotlight, but relentless tabloid attention forces her join Ellie at the relative seclusion of the castle across the pond.
While the dashing young Miles has been appointed to teach Daisy the ropes of being regal, the prince's roguish younger brother kicks up scandal wherever he goes, and tries his best to take Daisy along for the ride. The crown–and the intriguing Miles–might be trying to make Daisy into a lady . . . but Daisy may just rewrite the royal rulebook to suit herself.
Here are the five things I loved most:
1. The voice – From the opening pages, I just loved Daisy and how she describes everything. Here's a particularly funny passage when she first meets Sebastian, her future brother-in-law's younger brother.
He's tall, his entire upper body is so perfectly v-shaped that I think geese probably study him to get their flight formation just right, and he's wearing a gray long-sleeved shirt and jeans that were clearly crafted just for him, possibly by nuns who've devoted themselves to the cause of making boys look as sinful as possible so the rest of us will know just how dangerous they are …
The whole book is like this and it's just perfect!
2. The banter/dialogue – I just wanted all of the characters to keep talking, all the time. Every word they said was so spot on. I especially love the interaction between Daisy and Miles, but really her parents were awesome, and so were all the Royal Wreckers (Sebastian's friends). I just want to study and it and figure out how to do it myself :).
3. The humor – You've probably already figured out from my mentions in the voice and dialogue that humor is a huge part of this book, and it's woven into the words themselves, but it's also situational. Daisy gets herself into some crazy debacles, sometimes due to what she says, but also because she's in the wrong place at the wrong time. I was laughing non-stop.
4. The tabloid articles – Interspersed throughout the novel are short articles from royal-watchers that did a great job conveying background information about the various players in the story and moving the plot forward without having to show Daisy experiencing it. I really liked how these were used.
5. The romance – Love, love, love! I'm a sucker for hate-to-love romances and also another trope included here that I don't want to mention because it isn't brought up in the blurb. But this romance is so stinking adorable and really why I had the huge grin on my face at the end.
I can't wait to see what Rachel Hawkins writes next because she's batting a thousand for me. If you've read ROYALS, let me know what you thought in the comments!