Get ready, friends, because I think I might be on a bit of a middle grade spree coming up. Two writer friends just had middle grade books come out, so I definitely plan to feature their books in the near future, but I also happened to pick up RUBY & OLIVIA by Rachel Hawkins, and I absolutely adored it. I've featured several of Ms. Hawkins' young adult books here on the blog, but this is the first middle grade book of hers I've read. It's equally delightful. Here's the cover and description.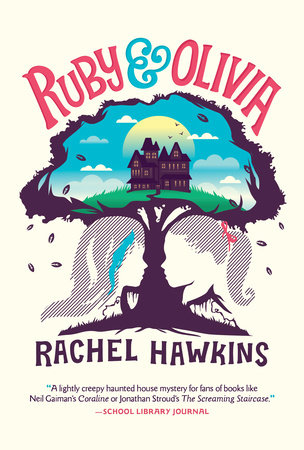 Ruby is bold and opinionated, while Olivia has always been respectful and well behaved. But Olivia's good-girl image is tarnished when she takes the fall for her twin sister's misdeed. And now Olivia is stuck with Ruby all summer—at a community service day camp for troublemakers.
To kick off the spirit of service, the campers are tasked with cataloging the contents of Live Oaks, a historic mansion in their town. Sorting through objects in an old house sounds boring, and working together is the last thing the girls want to do, but the stuff is actually kind of cool. There's everything from mink stoles to golf clubs to antique dolls . . . and . . . wait . . . is that doll watching them?
It isn't long until little tricks—like mysterious music playing, doors slamming, and shadows rising—start to spook the girls. They'd like to think the other campers are pranking them, but they soon realize that this empty mansion might not be uninhabited after all. To solve the mystery at Live Oaks, Ruby and Olivia will have to put their old grudges aside and figure out how to be a team.
Here are the five things I loved most.
1. The friendship – These two girls are so different, and their path to friendship is further complicated by the fact that they have history–Ruby used to be close friends with Olivia's twin sister, Emma. This friendship is messy and prickly and the girls both get hurt along the way, but it's honest and real. It's very well done.
2. The families – The dynamics in both family relationships are excellent and unique. Ruby is dealing with the loss of her grandmother and is very close to her mom, while Olivia has a sticky relationship with her twin after taking the fall for something she perhaps shouldn't have, leaving her alone with her parents for the summer for the first time ever.
3. The humor – Humor is a staple of Rachel Hawkins' books, and this one is no exception. Ruby is the main source in this case, as humor is her default, although Olivia steps up sometimes too, once she feels comfortable with Ruby.
4. The mystery – A spooky house with creepy dolls, taxidermied animals, and doors that randomly close? Yes, please! I loved how the girls decided to investigate.
5. The resolution – I really enjoyed the final resolution to the mystery. It wasn't one of those stories where you could figure it out entirely on your own. There were hints where it was headed, but you had to wait until the end with the characters to find out what was truly going on, and it was a great payoff.
I will definitely be looking for other middle grade books from Rachel Hawkins. I know she has one other. If you've read RUBY & OLIVIA, what did you think?