Yes, you read that right–I have another review of a Christina Soontornvat book this week. I'm going to just turn this completely over to my sixth grader today instead of quoting his review, but first, I'll explain that we met Christina last year at OMG BookFest, and he picked up a signed copy of THE CHANGELINGS. He always has a row of about 20 new books waiting to be read because books are all he asks for at Christmas and his birthday, but he loves to go back and re-read books. So even though he reads 4-5 books a week, probably 3-4 of those are re-reads. Anyway, after reading A WISH IN THE DARK, he pulled out THE CHANGELINGS, and here is his review. Everything below the line is from him 😀.
---
I loved The Changelings. The Changelings is my favorite book I've read this month. Here is the preview…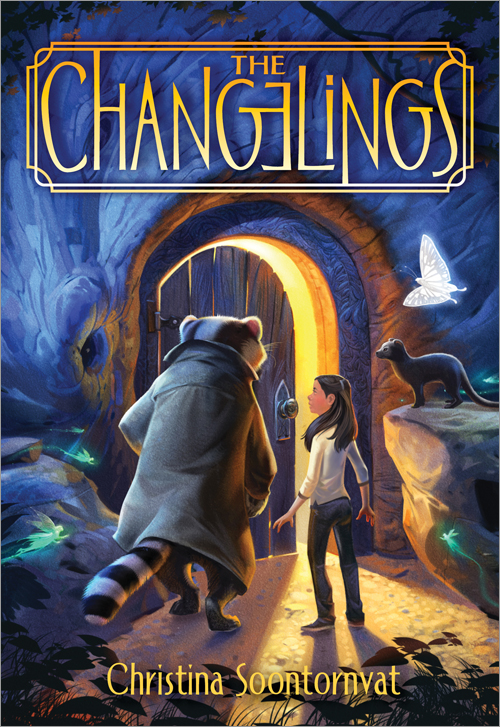 All Izzy wants is for something interesting to happen in her sleepy little town. But her wish becomes all too real when a mysterious song floats through the woods and lures her little sister Hen into the forest…where she vanishes. A frantic search leads to a strange hole in the ground that Izzy enters. But on the other side, she discovers that the hole was not a hole, this place is not Earth, and Hen is not lost. She's been stolen away to the land of Faerie, and it's up to Izzy to bring her home.
But inside Faerie, trouble is brewing-and Izzy is in way over her head. A ragtag group of outlaw Changelings offer to help, but she must decide whether a boulder that comes to life, a girl who looks like a ghost, and a boy who is also a stag can help her save Hen before it's too late.
That sounds exciting… Doesn't it? Well it gets better. I couldn't put it down. Izzy as a character is amazing. She starts out wanting/needing adventure more than anything else. But when her sister goes missing, well, that quote on the cover just about sums it up: "Everything seemed boring…until now." It causes her to realize how much she can do to help as she mysteriously goes down a hole. Kind of like Alice in Wonderland, right? She grows to realize who she really is.
Another thing that I like about this book is the other characters she meets along the way. She meets a band of rebels, named Lug, Dree, and Selden. They each bring to the story in their own unique way. Lug provides comic relief to the fullest with his ability to make others laugh. Dree gives the story a skeptic so everyone doesn't go off the rails and ruin what they are doing. She also is a very good friend once Izzy has her trust. Selden is more gruff and mysterious. He keeps everyone from killing themselves. He begins to become more trusting and open. Selden has the best character development of all of them.
And a final thing that I like is the setting. Faerie is magical. It is covered in huge forests, rivers, mountains, and overly large boneyards. (That last part scares me, we aren't told why it's there!) But the people are magical too. It's not that they have magic (though some of them do), but there is almost every fairy creature imaginable. You name it, it's there.
I thoroughly enjoyed The Changelings. After reading The Changelings, try the next one, In a Dark Land.
See spoilers below:
YOU ACTUALLY THINK I WAS GOING TO GIVE YOU SPOILERS!?!? NO WAY!!!!