Happy last few days of August! I've been holding on to reviews of a few young adult books I read earlier this summer (mostly because I've had so many other things to post about). But considering this first author will be in conversation with me for my launch week Instagram Live, I'd better make sure you know about the book before next week!
So, let's start off the reviews with Brianna Bourne's YOU & ME AT THE END OF THE WORLD!
---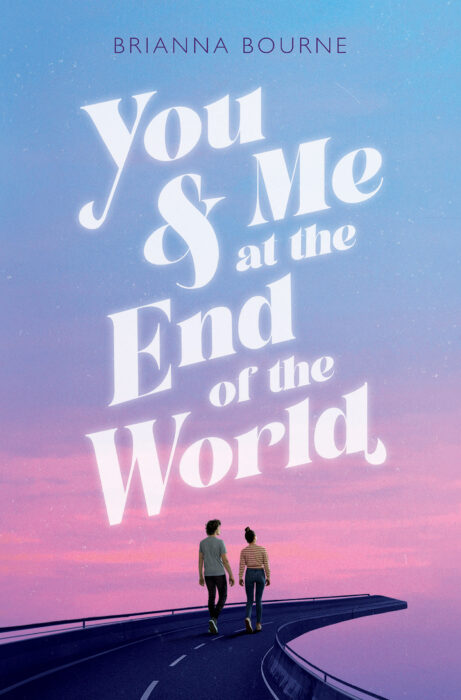 First of all, can we take a moment to gaze at this gorgeous cover? It makes me pause every time I see it. And then there's the description for YOU & ME AT THE END OF THE WORLD by Brianna Bourne…
Hannah Ashton wakes up to silence. The entire city of Houston is empty, except for one other person–Leo Sterling. They're complete opposites. Hannah's life is on track for a career as a company ballerina. Leo has little direction, avoids relationships, but loves playing '80s rock. They're forced to rely on each other in increasingly perilous and strange circumstances.
On one hand, there's the tension of wondering where everyone else has gone and what the heck is going on. On the other, there's the romantic tension between Hannah and Leo, which is off the charts. The story is told in both points of view, and the feelings on both sides are so intense. Yes, there's physical attraction, but the emotional depth and growth during the course of the story–for both Hannah and Leo–are what make this book so truly gripping. I'm a total sucker for a slow-burn romance, though.
As for the end-of-the-world scenario, the hints are there, if you're paying enough attention. It's so well done. This book has been getting tons of praise, and it's so deserved!
I'll be chatting with Brianna Bourne on Instagram Live as part of my launch week celebrations on Thursday, Sept. 9, at 1 p.m. Central time. Check out my events page for all my upcoming events!
---
Wow, this book is powerful. I tend toward lighter books in general, but sometimes a description just grabs me and I know I should read a book even if it might gut me. I felt that way when I read the description for THE HALF-ORPHAN'S HANDBOOK by Joan F. Smith.
It's about Lila, who's just turned 16, but that's overshadowed by the fact her father committed suicide three months ago. She never saw it coming. Since then, she's built a wall to protect herself, only allowing her mom and younger brother inside and, most of all, shutting out all liars.
When her mom sends her to a summer-long grief camp, potential new friends and an unexpected crush make it hard to keep herself isolated anymore. She also starts to learn more about her father's history.
This book is intense, as it explores the many ways different people deal with grief. It's not a linear or finite process. I especially appreciated how Lila learned to start trusting herself and her judgement of others. The descriptions/emotions are gorgeously written. It's both heartbreaking and hopeful, and I look forward to reading more from Joan F. Smith!
---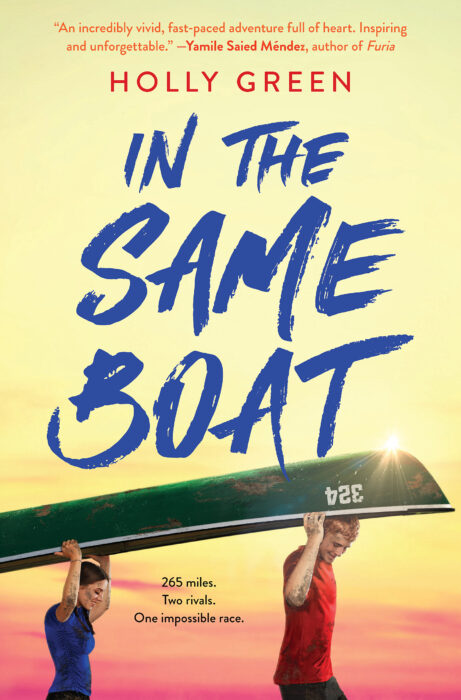 A grueling 265-mile canoe race through through snake, mosquito and alligator-infested waters? Um, no thanks!
Oh, wait, I can experience this from the comfort of my air-conditioned sofa? Sign me up for that!
IN THE SAME BOAT by Holly Green is the adventure I never knew I wanted. It begins with Sadie Scofield failing to finish the Texas River Odyssey with her father. A year later, she's set to run it with her older brother. When he bails on her, she's forced to do it with her former best friend/current worst enemy, Cully.
Seriously, this book is what I love about books–that I can read about something I would never in a million years do myself. The details about this river race are so immersive I felt like I was right there (except without the physical misery). And I loved how the relationship between Sadie and Cully builds, with flashback scenes to their past and how they went from best friends as kids to enemies as teens. It's a romance in the making, but it's also just as much about friendship. It's also a book about testing yourself to the limits and knowing your own capabilities.
I loved getting lost in this race, rooting for Sadie and Cully both as a team and to repair what they'd lost. Definitely check this one out!
---
It's summer, and Hannah and her four best friends are planning an epic summer together in her hometown of Gap Mountain, California, starting with a day at Gap Lake. 
But a few bad decisions and reckless moves later, they've started an uncontrollable wildfire. And no one—including the law—will care that it was an accident. Soon their lies are spreading just like the fire, thus the title—LIES LIKE WILDFIRE.
This book was so intense. Jennifer Lynn Alvarez does such a great job raising the stakes at every turn. No one makes the best decisions when their future is on the line; right and wrong become as murky as the lake where everything started. Throw in the friends keeping secrets from each other, increasing personal loss from the fire, and the pressure is on! 
LIES LIKE WILDFIRE is perfect for anyone who loves a high-stakes thriller! It comes out the same day as my book–Sept. 7–and is available for pre-order and/or library requests now. So get on both of those!
---
I know these are a wide range of books this time. That's what I love about being in #the21ders debut group. I've learned about so many books I wouldn't have otherwise. I hope you'll check these out and let me know what you think after you read!