A few weeks ago a middle grade author stopped by my blog to comment on one of my MMGM posts. Since I was down to one MG novel in my TBR pile, I picked hers up. So thanks to networking through social media, today's MMGM is about CIRCLE OF SECRETS by Kimberley Griffiths Little, who I expect will drop by again :).
Here's a description from the inside cover:
After her mother walked out on Shelby Jayne and her dad, Shelby thought she'd never speak to her mamma again. But with her dad leaving the country for work, it turns out she doesn't have a choice: Shelby has to move back into her mamma's house, deep in the heart of the Louisiana bayou.
Her new classmates tease and torment her, so Shelby's relieved to finally find a friend in Gwen, a mysterious girl who lives alone on the bayou. But Shelby can't help wondering if Gwen has something to do with the puzzling messages she finds hidden in the blue bottle tree behind her house. The only person who might be able to explain is her mamma–but Shelby's not ready to ask. Not yet. It may take a brush with something from the beyond to help Shelby see that the power to put her own ghosts to rest is within her reach.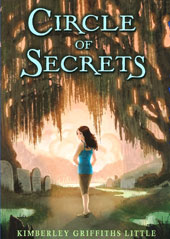 Here are five things I loved about the book:
1. The setting – I'm not familiar with the Louisiana bayou, so I really enjoyed experiencing it through this novel. Kimberley Griffiths Little brings it to life in such a way that it almost becomes another character. I love it when I can taste and see and feel the character's surroundings.
2. Shelby's conflict – Throughout the book, Shelby struggles with her feelings toward her mother. Much of that is tied up in torn loyalties between her mother and her paternal grandmother. One of the most effective examples of this bigger issue is the way Shelby slips into her mother's patterns of speech. Here's an excerpt:
"'Never heard of no jealous bird before,' I tell her, rolling my eyes. I hear my own voice and wonder at how easily I'm talking like Mirage again. Grandmother Phoebe's been trying to squeeze the swamp speech out of me all year long, teaching me how to speak more proper like ladies in the big cities instead of a bayou girl. Even though I lived out here when I was real young–before my memories kicked in."
Shelby struggles with this sense of being tugged in two directions throughout the book, and it's satisfying when she finds her own way in the end.
3. The faith element – As a person of faith, I'm always interested to see how books intended for a mainstream audience present it. In this case, Shelby's mom is a traiteur, a healer. She explains to Shelby that her ability to heal is a spiritual gift from God. I really liked the way the author handled it as a straightforward statement of the mother's belief. It didn't have to be a big deal. It was just part of who she was.
4. The blue bottle tree – I'd never heard of a blue bottle tree, but if you do a Google search, you'll discover it's definitely a thing. I have a feeling the one at Shelby's house is much cooler than the pictures that pop up on the search. I enjoyed the way Kimberley Griffiths Little took a piece of Southern culture and wove it into the story, making it a vital part of the plot. Plus, I learned about something new, and I'm always up for that!
5. The secrets – Well, they're part of the title, so the secrets must be important. They're unraveled slowly throughout the book, with Shelby discovering them a bit at a time and trying to fit them together. She has the pieces and the means to find the truth, but she's afraid to ask the one person who has most of the answers. The secrets are the key not only to solving the mystery in the blue bottle tree, but also to healing the strained relationship with her mother. Very well done.
If you haven't read this book yet, go pick it up!
For querying writers, Kimberley Griffiths Little is represented by Tracey Adams of Adams Literary.