Last year I forgot my blogiversary until two weeks after the fact. I had it more on my radar this year, perhaps because it's once again the date for The Writer's Voice, the contest for which I started this blog.
The reasons I gave last year for why I love doing this blog remain true in the second year. I continue to develop relationships with other writers, and many of those have carried through to beta reader and critique partner relationships. For example, The Writer's Voice? I met five of my beta readers through it. Yes, it was a great contest, but the relationships I developed through it were the most valuable benefit of the experience, and it all started with my first blog post.
I also still value the record this blog gives of my writing journey. I've grown so much in the past two years, and I believe that shows in my posts.
So, I thought it would be fun to look at some statistics on my top posts and how people get to my blog. If you stick with me, I promise to give something–actually multiple somethings–away at the end!
Top 10 Posts in the Past Year
10. MMGM: SAMMY KEYES AND THE HOTEL THIEF
9. Before the Draft: Outlining in Scrivener
8. How to Stalk WriteOnCon Ninja Agents – Apparently people need stalking advice :). I may need to pull this one out again in August.
7. Remembering My Grandma: Life Goals Accomplished – One of my rare personal posts, and it warms my heart she got so many visits on my blog.
6. Why It's So Hard to Get Your First Novel Published – One of my earliest posts and still one of the most popular!
5. MMGM: THE UNWANTEDS: ISLAND OF SILENCE

4. MMGM: WHEN THE BUTTERFLIES CAME Trailer Reveal, Interview and Giveaway! – My first trailer reveal! Thanks to Kimberley Griffiths Little for entrusting me with her reveal.
3. What I've Learned in Two Years of Querying – Apparently other writers feel my pain! I've already started writing my "What I've Learned in Three Years of Querying" post, but I'm still hoping it can be turned into a two years and xx months post :).
2. MG/YA Agents & Their Books – This is actually a page that I continually update, inspired by the No. 1 post below. If you want to help me expand it, click on the link and read the guidelines.
1. A Glimpse at My Agent Spreadsheet: Middle Grade Books I've Read – I'm not at all surprised this was my top post. One day I just decided to share my own list, and I'm so glad it's become a much-used resource.
Top 10 Posts of All Time
Several of these line up with the top posts of the past year, but it's still fun to look.
10. My Thoughts on SNOW WHITE AND THE HUNTSMAN (Spoilers!)
9. MMGM: SAMMY KEYES AND THE HOTEL THIEF
8. 10 Tips for Titling a Manuscript
7. What I've Learned in Two Years of Querying
5. Why It's So Hard to Get Your First Novel Published
4. MMGM: THE UNWANTEDS: ISLAND OF SILENCE
3. YA Review and Giveaway: PERFECT SCOUNDRELS by Ally Carter
1. A Glimpse at My Agent Spreadsheet: Middle Grade Books I've Read
Top 5 Searches in the Past Year
I also analyzed the search terms people use to get to my blog. There are so many combinations, but here are the top five categories.
5. Searches for me – My favorite was the one that said "michelle mason what I do next." I hope they found an answer! Interestingly, there was also a search for "dexelon." Since this is a planet I made up for my MG sci-fi, they must have been looking for me.
4. "Snow White and the Huntsman" – Apparently this movie left others with as many questions as I had when it was over. This little post where I expounded on my issues with the movie is still in the top 10 of all time!
3. Why is it so hard to get published? – This post also remains in the top 10 for the past year and all time.
2. Agents who represent middle grade/young adult books – I'm so glad this resource is helping people. This category included searches for what specific agents represent as well as a general search for agent/book matches.
1. Books I've reviewed – By far the most common searches that lead to my blog are for books I've reviewed. Strangely, many of them are looking for free copies of the books–which they won't find here! I suspect many are doing school research, as there are questions about themes and characters. Although I don't do spoilers, I expect some of my reviews would help students.
So, this look back is very helpful to me as I consider where to focus my blogging efforts. Have any of you analyzed your blog/website to see where it's most useful to people who don't already follow you?
And now to the giveaway. To celebrate my blogiversary, I have a few books sitting here that I'd love to pass along to new readers. They're kind of random, but hey, so are my bookshelves :). To enter, comment by noon on Thursday, May 8, with which book you'd like to win–or all of them! Depending on how many enter, you could win more than one book. North America only, please. I will announce the winners next Friday, May 9.
The options are:
Paperback copy of NO-NAME BABY by Nancy Bo Flood
Hardback copy of THE SEVEN TALES OF TRINKET by Shelley Moore Thomas
Paperback copy of THE HUNGER GAMES by Suzanne Collins

Signed

hardback copy of PROMISE OF SHADOWS by Justina Ireland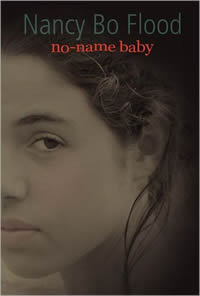 Good luck!
Note: This giveaway has ended.