Based on the cover and description, I actually thought THE GRIMM LEGACY was a middle grade book when I picked it up at the Scholastic Warehouse Sale, but it turns out it's YA. It does read on the younger side, but I'm all for finding those gems that appeal to the tween crowd who are ready for YA but not the edgy kind. This book definitely fits that description, and I have a paperback copy to give away, so look for details at the bottom of this post.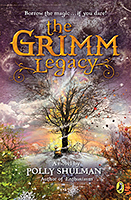 What if fairy tale magic really existed?
Lonely at her new school, Elizabeth takes a job at the New York Circulating Material Repository, hoping to make new friends as well as pocket money. The Repository is no ordinary library. It lends out objects rather than books—everything from tea sets and hockey sticks to Marie Antoinette's everyday wig.
It's also home to the Grimm Collection, a secret room in the basement. That's where the librarians lock away powerful items straight out of the Brothers Grimm fairy tales:  seven-league boots, a table that produces a feast at the blink of an eye, Snow White's stepmother's sinister mirror that talks in riddles and has a will of its own.
When the magical objects start to disappear, Elizabeth and her new friends embark on a dangerous quest to catch the thief before they're accused of the crime themselves—or the thief captures them.
Here are the five things I loved most:
1. The fairy tales – You're not surprised, are you? I always love books with fairy tales. It's why I picked this book up in the first place. But this one takes a different twist. Instead of retelling fairy tales, it's using objects from fairy tales–and not necessarily the most famous objects, although there is one in particular that makes frequent appearances.
2. The premise – I love the concept of her working in a library. I worked in a library myself during college, and I like the idea of a library that deals in items other than books. Also, the pneumatic tubes are very cool, particularly a certain incident that happens involving a shrink ray …
3. The mystery – Who's behind the thefts? Is one of the other pages involved? Who can Elizabeth trust? The clues are planted carefully and just when you think you have something figured out, a new twist comes along.
4. The magic – To be honest, I think this is part of what made the book read a little younger for me, and yet if a teenager were truly confronted with real magic, wouldn't they act like a kid? Heck, I'd probably act like a kid! It's like when you go to Disney World and everything's just, well, magical. This book had that feel to it, with the characters experiencing that child-like wonder of discovering a new world.
5. The relationships – While at times the story read young, the relationships were so spot on. The girls all in love with the basketball star. The boys all in love with the beautiful girl. Elizabeth and Aaron snapping at each other in a flirting ritual everyone else saw but they didn't. Ah, teenagers!
Also, there's a companion novel, THE WELLS BEQUEST, that I haven't yet read, but I plan to. It features one of the characters' younger sisters.
Ok, on to the giveaway. I have a paperback copy of the book I'd love to pass along to one of you. Enter by clicking on the Rafflecopter below. Good luck!
Note: This giveaway has ended.