One day in the bookstore I needed a third book to get a deal and spotted ELLA ENCHANTED by Gail Carson Levine. I'd seen the movie and figured the book must be better because, of course, they always are. Plus, it's a Cinderella story, and we all know how much I love Cinderella stories, right? Anyway, in case you aren't already familiar with this classic, here's the description.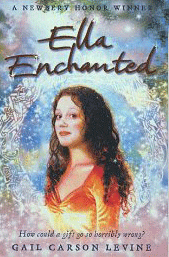 How can a fairy's blessing be such a curse?
At her birth, Ella of Frell was the unfortunate recipient of a foolish fairy's gift—the "gift" of obedience. Ella must obey any order given to her, whether it's hopping on one foot for a day and a half, or chopping off her own head! But strong-willed Ella does not tamely accept her fate. Against a bold backdrop of princes, ogres, giants, wicked stepsisters, and fairy godmothers, Ella goes on a quest to break the curse—once and for all.
And here are the five things I loved most:
1. Ella's resourcefulness – As you can see from the description, Ella has a bit of a problem. She has to do whatever people tell her to do, but she's very resourceful. From outsmarting ogres to protecting Char, Ella always has a plan. I admired her, and so I was always rooting for her to succeed. Sometimes I wasn't sure how she was going to get out of whatever mess she was in, but I assumed she'd figure it out.
2. Char – This Prince Charming–or Charmant–is no nameless prince. He has a personality and faults, and he earns Ella. I really enjoyed the way he was a fleshed out character and not just her savior in this version of the Cinderella story.
3. The romance – I loved the way the romance between Ella and Char developed over time. They really get to know each other, so it's not the typical fairy tale romance or even what you often see in YA, where the guy and girl have this instant physical attraction and everything else follows. Ella and Char start out as friends and the love grows from there.
4. The supporting characters – I could really picture each of the supporting characters in the story–vapid Olive, evil Hattie, grasping Mum Olga, greedy Father, clueless Lucinda, and on and on. They were so spot on!
5. The stakes – Oh, I felt for Ella! Just when her dreams were within her reach, she had to–wait, you might not have read this yet, so I probably shouldn't say. It's really well done!
Have you read ELLA ENCHANTED? Or one of Gail Carson Levine's other books? I'm interested in reading another, so I'd love a recommendation!