I'm thrilled to feature Anna-Marie McLemore's THE WEIGHT OF FEATHERS on the blog today and to give away a pre-order to one lucky winner! Anna-Marie and I were teammates in the first-ever The Writer's Voice contest in 2012 (Team Krista), and we've stayed in touch ever since–which is why I was able to get in on an ARC tour for the book and read it early :). The book comes out Sept. 15, and I will definitely be adding it to my permanent collection! Here's the gorgeous cover and description.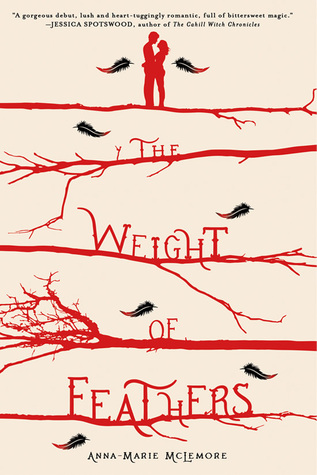 For twenty years, the Palomas and the Corbeaus have been rivals and enemies, locked in an escalating feud for over a generation. Both families make their living as traveling performers in competing shows—the Palomas swimming in mermaid exhibitions, the Corbeaus, former tightrope walkers, performing in the tallest trees they can find.
Lace Paloma may be new to her family's show, but she knows as well as anyone that the Corbeaus are pure magia negra, black magic from the devil himself. Simply touching one could mean death, and she's been taught from birth to keep away. But when disaster strikes the small town where both families are performing, it's a Corbeau boy, Cluck, who saves Lace's life. And his touch immerses her in the world of the Corbeaus, where falling for him could turn his own family against him, and one misstep can be just as dangerous on the ground as it is in the trees.
Here are the five things I loved most:
1. The title – This may seem like a strange thing to love, but sometimes I read a whole novel and never figure out where the title originated. For this book, the title showed up on page two, and it completely grounded me in the story. Titles aren't always powerful, but this one is.
2. The blend of magic and science – On the surface, this story is one of magic–not spells and transformations but an old, intrinsic magic that permeates these families. But at the same time, sciences plays an important role, and the two are woven together in a way I found quite fascinating as the story progressed. It's unique and masterful.
3. The distinct voices – The story mostly alternates between Lace and Cluck, occasionally staying with one character for a couple of chapters. I loved how distinct the voices are. I wish I could share an example, but the scenes that I felt best exemplified this are quite long. It's when each of them describe the other's show. Lace goes into much more detail than Cluck, is more complimentary, and yet you still understand how much Cluck appreciates the mermaid show. Very well done.
4. The romance – I loved Lace and Cluck's dialogue and wordplay, and if I hadn't passed the ARC along to someone else, I would have found a passage to share for this :). But I also loved how the feelings built differently on each side, particularly as they each learn the other's true identity at different points in the story. Imagine falling in love with someone and discovering later they're your enemy versus knowing from the beginning they're forbidden. I get shivers just remembering it!
5. The languages – I loved how seamlessly Anna-Marie wove in French and Spanish. Often the words were translated in an easy way, but sometimes they weren't and it was entirely appropriate. There was a moment with Cluck's mother where Lace said she must not have wanted her to know what she'd said since she didn't translate. I never felt like the translations interrupted the flow of the narrative, and that's quite an accomplishment.
I so love this book that I want to put it in someone else's hands as soon as it's available (remember, that's Sept. 15!). As a result, I'm giving away a pre-order to one lucky winner. North America only, please. Click on the link below to enter.
Click here to enter the giveaway for THE WEIGHT OF FEATHERS!
And come back next week, as I'm planning another giveaway. I know! Two in a row :)!
Note: This giveaway has ended.