I mentioned a couple of weeks ago that I'd be sharing more about my Pitch Wars' mentors' books, and today I'm thrilled to host Beth Ellyn Summer with an interview about AT FIRST BLUSH. Even better, I'm giving away a copy of her book, and Beth is adding on swag–makeup and a signed bookmark! First, here's the description.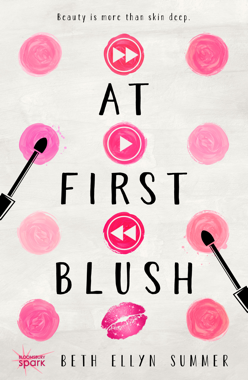 Who would have thought that a teenager could have a successful career creating makeup tutorial videos on YouTube? For Lacey Robbins, this dream has been her reality. An up-and-coming YouTuber, she has thousands of fans and can't wait for the day when her subscriber count reaches the one million mark. And when she is offered a high school internship at On Trend Magazine, she figures that this could be the make it or break it moment.
But sometimes your dream job isn't all that it seems. Her editor is only interested in promoting junk products, and her boss in the Hair and Makeup department introduces her to the larger world of makeup artistry, making her wonder if making tutorials online is all she is meant to do. To top it all off, when the magazine's feature subject , musician Tyler Lance, turns his broodingly handsome smile her way, falling for him could mean losing her fans, forcing her to make a decision: her YouTube life or her real life?
And here are Beth's answers to five questions about the five things I loved most.
I love the inside look at life as a YouTuber, especially since it's becoming more common for teens to have channels. Did you experiment with your own channel? Talk to YouTubers? How did you research?
This was definitely a case of binge-watching tons of beauty tutorials and calling it research! I'm deathly camera shy so making my own channel was never an option. YouTube beauty videos have this really fun, sleepover-with-your-best-friends vibe that's so addictive. I spent months studying how gurus interacted with their subscribers, how they conducted giveaways and handled dramas and scandals. What shocked me most was just how much hate these girls deal with on a daily basis. When pop stars and movie stars get hate, they can avoid social media and Google. But YouTubers literally make their living off interacting with subscribers, so reading hateful comments is all part of a day's work. I admire anyone who can look past all that to do what they love and make a career out of it.
Lacey's makeup expertise is so ingrained it's obvious it originates with you. After reading this book, I feel like I'm probably doing it all wrong and should go watch some tutorials myself. Any tips for those of us who might be in a makeup rut? Who should we watch since Lacey Blushes is fictional?
So, confession: I was always pretty terrible at makeup. Like, awful. My mom did my makeup for me up till college. But then one day I realized I've got to figure this out for myself, and I got really hooked on tutorials! These girls made it look so easy, and it's because of YouTube tutorials that I learned the key to flawless makeup application: a thorough and moisturizing skin care routine, and the right tools. I didn't realize that you need good quality brushes (you can get really inexpensive ones), otherwise the products don't apply well. Good brushes are game changing.
My advice if you're in a makeup rut (and I literally just dragged myself out of one) is to experiment with new brands. Also: play with vibrant eyeliner colors! I have a tough time working with colorful eyeshadows on my lids, and I never have the patience to blend properly, so I tend to stick with my usual neutrals. By adding a pop of teal or turquoise or purple eyeliner, it takes things up a notch without going too far out of a comfort zone.
I highly recommend these beauty channels: Emily Noel, Lisa Eldridge, Pixiwoo, Ingrid Nilsen, Tanya Burr, FleurDeForce, Carrie Rad. I have so many favs but I learn the most from these girls!
I love how Lacey and Cynth's friendship is portrayed in the book. What suggestions do you have for writing a great friendship?
I'm the biggest sucker for strong friendships in YA. I think a good best friend helps a MC figure themselves out, but I really love it when the friends learn something new about their friendship within character arcs. My favorite way to write a best friend is to make them a polar opposite of my MC. It usually makes for some laughs, all while helping the MC step out of comfort zones. I usually take conversations and silly moments I've had with my own best friends and play off that!
Lacey grows so much in the story, figuring out what she wants to stand for and what she wants out of her YouTube career. Did you plan out her arc in advance, or did she reveal herself to you along the way?
I'm a pantser, so a lot of Lacey came to me as I was writing her. But I always knew Lacey would come to the conclusion that dreams can change, and she'd want to do something different from YouTube. I just kept thinking…what would it be like to have a girl who dreams of being a big YouTuber and the true conflict comes when she does get everything she wished for?
The romance! The famous boy who just wants a girl to like him for himself is one of my favorite tropes. I love that he cooks and has major weaknesses where his family is concerned. I'm pretty sure I know the answer to this one, but was there a particular inspiration for Tyler coming from a family boy band?
Ha! Haha. Yes! My favorite thing about post-publication has been reading the guesses from bloggers and readers about who Tyler Lance is based on! It was kind of a huge mix in my head, to be completely honest. I'm a Hanson girl. I grew up going to their shows, and with walls covered in their posters, and I still adore them. I'm really just fascinated with family bands in general. I watched a feature on R5 once where the focus was solely on Ross Lynch and I just wondered…what would happen to the family if the band broke up? There's some Jonas Brothers and R5 influence in Simply Complicated as well. Despite all the family drama stuff, I also took plenty of inspo from Harry Styles. I based Lacey and Tyler's romance off of the media firestorm that was Taylor Swift and Harry Styles' relationship, and Taylor's 1989 album was my At First Blush playlist. Hardcore Swifties will probably notice references to Out of the Woods and Style!
Thank you, Beth!
Now, on to the giveaway! I'm giving away an e-book of AT FIRST BLUSH, and Beth is adding on an e.l.f. shimmering facial whip and signed bookmark. United States only. To enter, click on the Rafflecopter link. Good luck!
http://www.rafflecopter.com/rafl/display/ba24b44a18/?
Note: This giveaway has ended.