The adult/new adult and middle grade Pitch Wars entries are already live, and the young adult entries are scheduled to post tomorrow, although the others have gone up the night before, so it's very possible my entry for YOUR SECRET'S NOT SAFE WITH ME will go live tonight.
My mentors asked me if I was excited or nervous. Yes, bits of both emotions are swirling around inside me, but I'm actually pretty calm today. Maybe that will change once my entry's actually up (I'll update this post with a link once it is), but I doubt it. Because even though my ultimate goal is an agent and I'm pinning all sorts of hope on this manuscript, I've been on this querying hamster wheel enough to learn a few things. (If you want the full details, start with my What I've Learned in Six Years of Querying post, and there are links to the five previous years.)
Update: Here's my post, but if you are not an agent, please don't comment!
PW #311: Young Adult Humorous Suspense: YOUR SECRET'S NOT SAFE WITH ME
So, I have a few words for my fellow mentees, whether you are getting many or few requests. And maybe it's also a reminder for me :).
1.We did it!

I mean, this is the most important point! We made it through the revisions, and it feels like a sort of graduation. I am so grateful to my mentors, Kristin Smith and Beth Ellyn Summer, for the time they devoted to my manuscript, as well as both the public and behind-the-scenes cheerleading. No matter what happens with the agent round, my manuscript is so much stronger and, most importantly, I know it's READY. I'm excited to send it out into agent-land, much like Elle ready to take on the world :).
2. Don't let the number of requests you receive discourage you from querying and putting your work before agents.
Some entries will not have many requests, and there could be various reasons for that. Maybe you should've gone with a different pitch. Maybe the agents who participated weren't the right fit, or maybe the agents who are the right fit didn't get to it. Maybe your first page isn't the best fit for a blog contest–which doesn't necessarily mean that your first page isn't what it should be. Maybe your manuscript will do better when you send a full query and sample. Sometimes a pitch and first page just aren't the best way to showcase a particular manuscript, and that's okay. I've had agents skip over my entry in a pitch contest before and then request from a full query and sample. It happens! So much of this journey is about timing, and there's nothing you can do about that :). You might start querying and experience just as much success as that entry with twenty requests.
3. If you have a ton of requests, don't assume you should blast out queries to your entire list.
Well, that sounds like a downer, so first of all, you should celebrate! Because it's awesome you got a ton of a requests! But still, I'm a realist. I've been in a contest with a previous manuscript where I had agents fighting over my entry. It's heady. It feels like THIS IS IT! But all it really means it that your pitch and first page are working. You still need to make sure everything that comes after works. And maybe it does. Maybe agents will be scrambling to offer on your manuscript. Based on the history of this particular contest, that will happen for some, which is so awesome! I will so be cheering for all of those success stories! Pitch Wars is unique in that you've been working with a mentor (or maybe two) who have helped you whip your manuscript into a fine shine. But publishing is a subjective business, which means the edits don't end once you start querying. Agents–and later editors–will have more revisions for you. Unfortunately there's no magic formula to knowing how many agents you should query once you send out to non-Pitch Wars showcase agents. It's really a matter of how confident you feel. I would say that if PW agents request partials and quickly upgrade to fulls, you are probably in good shape.
Update: Since this is my first time in Pitch Wars, I had no idea thirty or forty requests were even a possibility. If you're one of those mentees, you can probably send whatever queries you want! This point was more aimed at the ten to twenty request club. But still, congrats!!
4. Cling to your new writer friends.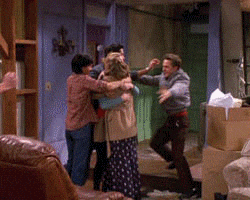 The very best thing about contests is the connections you make. My first major contest was five years ago. One of those teammates is one of my closest CPs, and I stay in regular contact with several others. I even got to finally meet one of them in person last month when she came through town for her book tour. These writers are your best support system when rejections come through, your sounding board when you need to revise, and your cheerleaders when you have good news. So stay in touch and don't be afraid to reach out when you need them!
I think that's it. Remember, you've already done all the hard work of revising the manuscript. I know waiting for those agent requests is nerve-wracking, but it's not the end game. It's just the next step in the journey. So, I leave you with this: