A few weeks ago one of my writing friends posted a wonderfully inspiring tweet:
And I replied:
Technically, this statement isn't true. If you've seen my posts on tracking my queries, you'll know that I do keep track of my rejections. However, I've never totaled them up for all the manuscripts, and as I thought about this post, I realized it might actually be helpful to share that information. I always figured I'd save these numbers for a dramatic How I Got My Agent post, but since that hasn't happened yet, let's do it! But also, as I'm still querying my latest manuscript, I'm not tying any of these numbers to specific manuscripts.
| | |
| --- | --- |
| Manuscripts: | 6 |
| Queries: | 594 |
| Query Rejections: | 500 |
| Partial requests: | 31 |
| Full requests: | 75 |
| R&Rs: | 4 |
So there it is. A nice even 500 rejections. But wait! That's only query rejections. When you add in the fact that those submissions and R&Rs didn't turn into offers, I've squeaked over 600 (some of those requests were from contests rather than queries). Now, I did include queries and submissions for the manuscript I'm currently querying in these numbers, and I'm still waiting to hear on a number of those. Plus, there are a few agents who haven't responded on a couple of my older manuscripts. Who knows? Maybe they'll find it in their inbox and still make an offer :). (I am an eternal optimist.) Which brings me to my first and always lesson:
PERSEVERANCE
Basically, I'm not giving up, no matter what. I will keep writing until one of these manuscripts sticks. I mean, this is my What I've Learned in Seven Years of Querying Post, and it's a tradition. I've written one for each year, so if you're new here, that's already going to tell you something. If you want to go back and read the others, here they are: What I've Learned in One, Two, Three, Four, Five, and Six Years of Querying.
But on to the other things I've learned this past year.
Being in a major contest like Pitch Wars doesn't put a magic spell on your manuscript. Now, I want to be clear that I did not assume being in Pitch Wars would result in an agent. It's more that I thought this manuscript would be more ready than any of the others and I would feel super-confident in my materials. I'd had multiple writing friends participate in the contest before, which is much more than an agent showcase, by the way, and so I understood going in that the main benefit of Pitch Wars was the mentoring. I'd entered Pitch Wars with three other manuscripts in the past and not been selected, with feedback varying from "You should go ahead and query!" to the sort of responses you get from agents: "Not right for me." So when I was selected by a mentoring team (Hi, Beth and Kristin!), it felt like I'd done something right with this manuscript. I knew it wasn't ready to query yet, and that's why the timing of Pitch Wars was so perfect. I would work with my mentors to shine up the manuscript and start querying after the agent showcase. I was thrilled with the final product and happy with the requests I received during the agent round (I never expected to be one of the entries with dozens of requests). Where my expectations have stumbled a bit was in the querying afterward. As with every other project, I've questioned pretty much every aspect–query, first pages, the overall manuscript. So being in Pitch Wars didn't magically erase all those doubts. Oh well. Fingers crossed the right agent is still considering it!
Participating in a mentoring contest brings your revision skills to a whole new level. As I started drafting and am now revising another manuscript, I've seen the benefits of working in-depth with two mentors. I have amazing critique partners, and they're very honest with me when they spot issues in my work, but the difference with mentors is that they go even deeper, suggesting cuts and additions that a CP may not. As I started writing my latest project, I felt like I had two extra voices in my head asking me if I was addressing those weaknesses I'd had in my last manuscript. I believe this latest first draft was stronger because I went through the Pitch Wars revision process.
Seeing your name on the Acknowledgements page of a critique partner's book for the first time is an amazing high. Several years ago I noticed there was a group of writers whose work I love who always thank each other in the acknowledgements page, and I thought, "Someday I will have a group of friends like that!" My group of critique partners and beta readers isn't so close-knit that they're all trading with each other, but several of them do chat with each other and share excitement over releases.
In any case, this spring marked the first time my name was in a friend's book, and I definitely walked around the house making sure my husband and kids saw my name in there. There are two more coming up in the next year that I will get to celebrate as well. I don't know how long it will be before my name is on the cover of a book, but for now I will cheer on my friends and continue reading the amazing work of the writers around me. There's so much more to this writing journey than my work. I feel like breaking into a chorus of "We're all in this together … "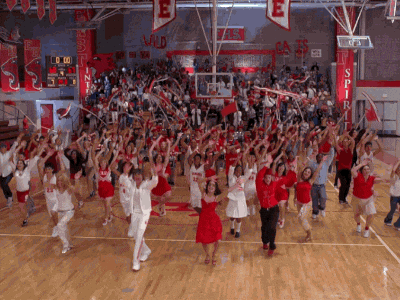 Find creative outlets with more immediate returns. I actually do a few creative things, but one creative outlet I'd missed recently was playing the violin, so last fall I joined a community orchestra. It was hard work. I hadn't played classical music in years (I'd been playing only at church), so I had to practice A LOT, but experiencing the payoff of performing challenging music was very rewarding. Now that I've found it, I'm not giving it up. I need that opportunity to express myself creatively and see the end result.
So that's what I've learned this past year, and I'm hard at work revising the next manuscript I plan to query. Because of that lesson I already shared but it doesn't hurt to mention again …
PERSEVERANCE!
To those of you who are persevering with me, keep at it! I'm cheering for you.