Happy December, friends!
I expect this will be my last review roundup of 2020, but I will still have some other fun reading features before the end of the year. As always, I plan to feature my favorite reads of 2020 the last week of year–although I have no idea how I'm going to choose. I read so many fantastic books this year! Also, before switching to my new website, I used to have a page listing all the books I'd read for the year. When I moved to the new site, I converted all of those to blog posts (now found under the What I Read This Year category), and I'll post the 2020 list on Dec. 31.
But for today, I have several recent reads to share with you. First up, INSTANT KARMA by Marissa Meyer!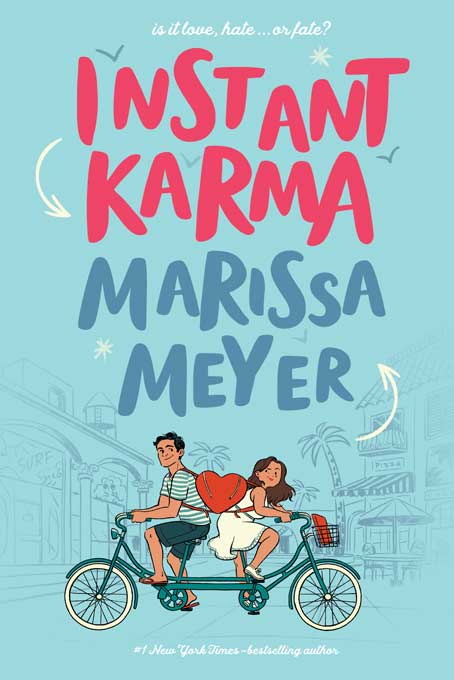 I've been a huge fan of Marissa Meyer since I first read CINDER many years ago, and the premise of INSTANT KARMA immediately intrigued me. Chronic overachiever Prudence Daniels is always quick to cast judgment on the lazy, rude, and irritating residents of her coastal town. She dreams of a world in which people might actually get what they deserve… Pru's dreams of karmic justice are fulfilled after a night out with her friends, when she wakes up with the sudden, wondrous ability to cast instant karma on those around her.
As you can imagine, Pru's powers don't always work the way she expects them to. I love how this book explores right and wrong and shades of gray. And also how it takes a look at one girl's sense of justice and how she doesn't always see the motives behind the choices someone else makes. The nuances to all of the characters are really well drawn. I also really enjoyed her relationship with Quint Erickson, who she initially views as a slacker lab partner but gradually grows to see as someone she's misjudged. It's both a fun read and one that makes you think–a great combination.
---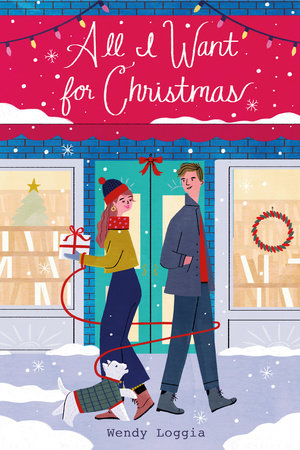 Last week I read an adult book everyone was talking about, and while it had its good points, it was rather draining. I needed something light and uplifting afterward, and ALL I WANT FOR CHRISTMAS by Wendy Loggia was the perfect fit. Christmas-loving Bailey Briggs lives for holiday music, baking cookies, going on snowy sleigh rides, and wearing her light-up reindeer ears to work at Winslow's bookstore. But all she really wants this year is the one thing she doesn't have: someone special to kiss under the mistletoe.
She ends up with two potential boys (and potential kisses!), and while as a reader I felt there was a clear choice, I still understood Bailey's confusion. The book was full of Christmas spirit and magic and a quick, fun read for this time of year. It felt like reading a Hallmark or Netflix Christmas movie. Absolutely delightful!
---
If you're in the mood for more Christmas reads, I'd also highly recommend ONE WAY OR ANOTHER by Kara McDowell. The book is pitched as Sliding Doors meets TO ALL THE BOYS I'VE LOVED BEFORE and follows Paige Collins, who lives in debilitating fear of making the wrong choice. When Paige is presented with two last-minute options for Christmas vacation, she's paralyzed by indecision. Should she go with her best friend (and longtime crush) Fitz to his family's romantic mountain cabin? Or accompany her mom to New York, a city she's spent her whole life dreaming about?
A slippery grocery store floor sends her into both possible realities. I love this kind of setup, and Kara McDowell handles it so well, alternating between the two realities with tension mounting at the end of each chapter so that I could not put the book down. I found myself equally invested in each reality and impressed by how each one was leading toward resolution.
The book also addresses Paige's anxiety and how she starts to work through it. The romance is fantastic, but the internal character journey is also super important. Highly recommend this gripping read!
---
While I was reading A CUBAN GIRL'S GUIDE TO TEA AND TOMORROW by Laura Taylor Namey, I kept wanting to pull out baking supplies. Or cooking. Either way. And I realized I am vastly under-educated when it comes to Cuban cuisine. Cue the Google search for Cuban food in St. Louis, because all of it sounds amazing!
But aside from making me hungry, the book was also just a complete delight on all sides. Lila's sent to England to get over the trifecta of heartbreak—the death of her grandmother, dumping by her boyfriend, and desertion of her best friend. Living with family at their Winchester, England, inn, she finds herself in their kitchen, and starts exploring with a boy whose family owns, of all things, a tea shop.
I loved Lila's expansive family. I loved how she grew throughout the story. I loved Orion (the tea shop boy), as well as all of his friends. Did I mention I loved the food??
Also, this book totally got picked for Reese's Book Club! How awesome is that! Way to go, Laura!!!
---
I've loved every book I've read by Stacey Lee, so no surprise I'm adding THE DOWNSTAIRS GIRL to my list of favorites.
Set in 1890 Atlanta, it centers around 17-year-old Jo Kuan, who works as a lady's maid for the cruel daughter of one of the wealthiest men in Atlanta and moonlights as the pseudonymous author of a newspaper advice column for the genteel Southern lady, "Dear Miss Sweetie." When her column becomes wildly popular, she uses the power of the pen to address some of society's ills, but she's not prepared for the backlash that follows when her column challenges fixed ideas about race and gender.
I enjoy reading historical fiction because it broadens my understanding of how we got to where we are. And in many cases, it opens me up to the experiences of other people. THE DOWNSTAIRS GIRL focuses not only on the challenges Chinese immigrants (and their children) faced in the late nineteenth century, but also how the landscape was changing for the Black population as their new freedoms were once again restricted with segregation. It's a very powerful read.
---
My entire family read NEW KID by Jerry Craft earlier this year, so we had to read the companion book, CLASS ACT, as soon as it became available. The graphic novel follows eighth grader Drew Ellis, on scholarship at the prestigious Riverdale Academy Day School, as well as keeping up with Jordan Banks from the first book. Drew feels that he has to work ten times as hard to be seen anywhere close to equal to the privileged kids at his school. To make matters worse, he begins to feel his friend Drew might be one of those privileged kids.
CLASS ACT builds on the racial issues raised in NEW KID and expands further into how wealth also divides—and how to bridge those divides. But at the same time, it doesn't pull punches about the seriousness of these issues. My son and I had some great conversations after he finished the book, and I highly recommend it for family discussion.
At the same time, I recommend it as a great story of friendship and because it made me laugh out loud multiple times. CLASS ACT shares serious messages, but it's also full of humor and heart. Check it out!
---
Whew! That was more books than I usually include in a roundup, but I've had a lot going on! And I expect things will be even crazier in 2021 as it will be the year my book debuts, but I will still try to shout about books I love when I can.
What books have you loved lately? I'd love to hear about them!