Happy Valentine's Day!
I hope you're celebrating with loved ones. I'm celebrating by sending out my monthly newsletter and talking about one of my favorite topics–book-to-screen adaptations. In addition to this topic, the newsletter also includes a "Who's Your Character Valentine?" quiz featuring the main characters and love interests from Your Life Has Been Delayed and My Second Impression of You, as well as YA romance book recommendations, a student Q&A, and other news. You can check it out here and be sure to subscribe if you want to catch the next issue.
But back to today's topic…
What's your favorite book-to-screen adaptation and why?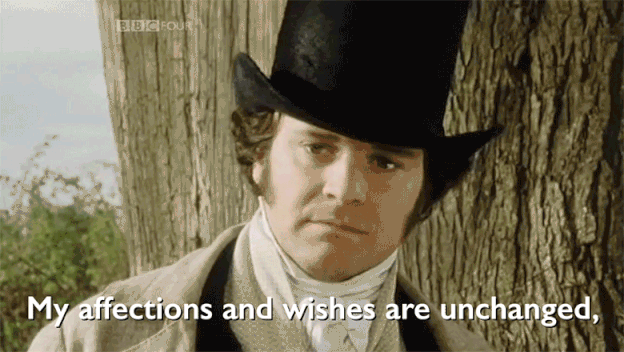 My favorite adaptation is the 1995 BBC Pride and Prejudice mini-series. Why? Because Pride and Prejudice is my favorite book, so it follows I'm going to choose an adaptation that brings it to life. This particular one because I believe it's the most faithful to the book.
I should mention that I wrote my college honors thesis on Jane Austen film adaptations. Granted, I wrote it in 2000, and several additional Jane Austen adaptations have released since then, but just as Mr. Darcy's love for Elizabeth remains unchanged, so does my affection for the 1995 mini-series. No matter how well the 2005 movie was made–and it really is quite a good effort–it loses so much plot just because it condenses the story into a little over two hours. I do like how the characters are portrayed, but they lose me a bit in that final scene at Pemberley. I'm sorry, but Jane Austen would not write the whole "my pearl" and "goddess divine" thing. If the 1995 version didn't exist, I'd probably be an even bigger fan of this one, and I do still recommend it to anyone who isn't up for four and a half hours … [end tangent]
My twelve-year-old seems to be on the same page as me, preferring true-to-the-book adaptations. She recently flew through both the To All the Boys series by Jenny Han and the Twilight books by Stephenie Meyer and proceeded to pick apart every difference in the movies. I hadn't read To All the Boys or Twilight in years, so while I knew there were differences, I mostly felt they stayed true to the overall character of the books. I'm clearly not as passionate about these books as I am about Pride and Prejudice 😉.
But I think that's a really important point. Because for any book that's adapted, there are passionate readers who want to see the book they love come to life. As a result, it seems to me that the most successful adaptations stick pretty closely to the books (accounting for the fact that movies in particular can't possibly include all plot points without running several hours). I asked TikTok, Instagram, and Twitter the same question at the top of this post. Here are some of the answers.
Regarding favorite adaptations:
Holes
Harry Potter
Hunger Games
Carrie (1976)
Bridge to

Terabithia

Call the Midwife
The Princess Diaries
Ella Enchanted
Regarding what's most important:
They follow the book better than most
Character ages and attitudes are more important than character appearance
Don't like it when they cut scenes that are important for characterization and heart
Even when plot is different, characters stay the same and that's most important for the story resolution (multiple people said something like this)
Caused me to feel the same emotions as the book
While different, builds on and expands the original story in new ways
I love these points, and I find it interesting that for most people who responded, plot was not the most important aspect of the story. How sad for us plotters… but not really, if you think about it, because plot should be driven by character. Writing for the screen is a very different skill set than writing novels, and I don't pretend to understand what all goes into the planning. There are many different considerations when you're watching the story rather than experiencing it alongside the characters, getting an inside look at their thoughts and motivations. Screenwriters have to find creative ways to convey those motivations.
Let's take those two examples I mentioned at the top–To All the Boys and Twilight. Netflix changed quite a few plot points in To All the Boys, but to me, the characters were still at heart the same. I think some of the changes may also have been the decade or so gap between the books and the adaptation. For Twilight, particularly in the second movie, they handled Bella hearing Edward's voice with a visual representation. Made sense to me! And (SPOILER ALERT!) I loved the scene in Breaking Dawn Part 2 when they confront the Volturi. There are a number of reasons why it couldn't have actually happened that way, based on the book and even what was said in earlier movies, but I don't care. It's really well done, and I still remember my reaction in the theater.
In addition to polling my own circle, I found these two Buzzfeed articles: 17 Excellent Book Adaptations That Don't Make Readers Fall To Their Knees And Curse Hollywood and 19 Book-To-Movie Adaptations That Were Disappointing Enough That People's Souls Were Affected. It's all subjective, of course, but it's interesting one of the first book series mentioned in the positive adaptation article is Julia Quinn's Bridgerton books, which are quite different. At the same time, one of the adaptations someone mentioned to me as a favorite (Ella Enchanted) is on the worst adaptations list–and I think it's because of that first point I made: the person who listed it as the worst is very passionate about the book so didn't like the changes.
I find that when I discover a book or series as a result of watching a TV show or movie, I'm much more forgiving of changes than if I read the book first. That's certainly the case for Enola Holmes, which I didn't realize was a book series until I'd watched the Netflix movies. I just read the first book, and I was a bit disappointed to discover Tewkesbury is only twelve to Enola's fourteen, in addition to some other differences. But you know what's the same? Enola's spirit and drive to solve crimes. So I'm on board for more movies if they make them, as well as reading the rest of the books. (Interestingly, I also read both The Princess Diaries and Ella Enchanted after watching the movies, so I didn't mind as much how very different they are. Spoiler alert: there's no Chris Pine character in the Princess Diaries books.)
I also really love when they do modern adaptations of classics, like Clueless (which I totally included in the aforementioned thesis as it's an adaptation of Emma) or 10 Things I Hate About You (which is Shakespeare's Taming of the Shrew). Obviously these are taking huge license, but you still recognize the characters and plot points you love about the original story.
Do let me know your favorite adaptations, because I'm always looking for more book and movie recommendations!