When I posted about research last week I was in the midst of reading a memoir for the first time ever. I'm definitely a fiction girl, so I would never have picked up this book without a strong incentive. I'm so glad I did. There were enough things about this book I loved that I'm writing my first non-fiction review. How about that? Here's the description.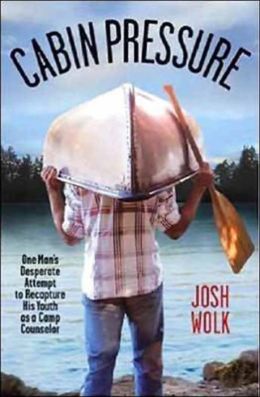 It's the countdown to Josh Wolk's wedding, and he has just one thing left on his to-do list. His fiancee is responsible for the invitations, the menu, and the ceremony. And Josh? At age thirty-four, Josh has to pack his trunk to work as a counselor at his beloved boyhood summer camp. It's time for one glorious, summer-long farewell to youth and irresponsibility.
A tall kid, Josh was always bigger than his fellow campers, but now he's also as old as their dads, and he has the gray hair to prove it. Even the other counselors think Josh is wizened. For eight hilarious, uncomfortable, enlightening weeks, Josh teaches swimming by day and lives in a cabin of smart-aleck, wet-willie-dispensing fourteen-year-olds at night.
Reintegrating himself into his childhood utopia isn't as easy as he thought it would be when he hatched this plan. His many moments of feeling ancient are paired with the unwelcome return of his old nemesis, Mitch. A macho jack-of-all-extreme sports, Mitch is idolized by the current campers, but he revives every one of Josh's youthful insecurities and then piles on a few more. Throughout all this disorienting regression, Josh's telephone conversations with his fiancee, Christine, grow increasing intense as their often comical discussions over the wedding plans become a flimsy cover for her worries that he's not ready to relinquish his death grip on the past.
As always, here are the five things I loved most:
1. The humor – I've always had this perception that memoirs were about people with sad or horrifying stories. Obviously I was wrong. What makes this book is the humor. Josh's way of seeing the humor in almost every situation kept me chuckling continually–probably because I like wry, sarcastic humor. He even made the boy humor palatable to me, and that's something.
2. The metaphors – It's no secret I love a good metaphor, and there were an abundance of them in this book. For example, in describing the dining hall, he says:
"The wide-open room was lined with three rows of wood tables with metal folding chairs, normally filled with boys screaming to be heard over boys screaming to be heard over boys screaming to be heard, the auditory equivalent of a nesting doll: the deeper you went, you'd always find another headache."
3. The descriptions – While the metaphors certainly enhance the descriptions, there's more to it than that. I could see, hear, smell and hear this camp, along with how he felt about all of those sensory touches. He also made the campers real and familiar. Here's a brief example.
"Meeting the Bears filled me with a sense of deja vu. While the lumpy Trumps didn't look at all familiar physically, I recognized his dark seizures of competitiveness from campers I'd known in the past. And every few years the camp got a new Captain Marquee, who would return from rehearsals annoyed at the lack of professionalism of his fellow castmates, convinced that if they'd just let him play every role, this version of You're a Good Man, Charlie Brown just might have a chance on Broadway."
4. His journey – What he's really cataloging is that point when you realize it's time to grow up and let go of the past. You can't recapture the past. You can catch glimpses of it, but you're not the same, and places change, too. The camp was an interesting setting for his experiment, though, as it had changed less than other places might have. I really enjoyed seeing what he learned from the experience.
5. The storytelling – What it all comes down to in the end is that this story was told so well. All of the pieces above added up to a great story. So thank you, Josh Wolk, for making my first experience with narrative non-fiction a positive one.
I'm not sure I'm ready to jump into reading memoirs on a regular basis, but if you have a recommendation for one you think I'd enjoy, let me know. I highly recommend this one!