Several years ago I won a contest for a signed copy of Matt Myklusch's first book, THE ACCIDENTAL HERO, and I became an instant fan. I loved all three of the Jack Blank books and passed that enjoyment on to my husband. I look forward to sharing them with my kids soon. (You can read my review of the final book in the series here, but be warned of spoilers.) My seven-year-old was already eyeing the cover of Mr. Myklusch's latest, SEABORNE: THE LOST PRINCE, with interest. Check it out.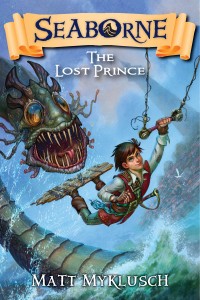 When 13-year old Dean Seaborne runs afoul of the Pirate King, he is given one last chance to redeem himself before he gets thrown to the sharks. His orders are to find and steal the treasure of Zenhala, a mysterious island where gold grows on trees. Dean infiltrates the island posing as its legendary lost prince, but the longer he stays in Zenhala, the more he questions his mission—and himself.
Forced to undergo intense and fantastical trials to prove his royal lineage, Dean can't help but wonder if he really is the lost prince he's pretending to be. With sea serpents, assassins, and danger on all sides, he might not live long enough to find out.
And here are the five things I loved most.
1. The humor – I tried to find a good passage to demonstrate the humor, but it's not really one-liners or even paragraphs at a time that make the humor in this book. Sure, those happen, but it's more about the situations Dean finds himself in.
2. The adventure – Sea serpents! Kites that skim across the ocean! Kayaking and soaring over waterfalls! Pirates! I mean, this story is all about adventure.
3. The dialogue – The dialogue is clever throughout, but I especially liked the interchange between Dean and one of his seconds in the trials because of how it could be interpreted multiple ways.
Dean nodded. "Fair enough. I hope you'll make it easier than your brother did."

"The regent told my father you had only good things to say about Junter's service."

"I was being polite."

Jin grimaced. "No need for that. Junter's performance yesterday was an embarrassment. He disappointed my father and brought shame to my family. Rest assured, I will not fail as he did."

"Good man," Dean said. He studied Jin, trying to get a read on him. He was more talkative than his brother and said all the right things, but what he left unsaid rattled Dean. He wouldn't fail in what?
Exactly! This conversation is one of many where the choice of words is key.
4. The twists – Is Dean the lost prince? Who wants him to be? Who doesn't? There are so many rabbit trails in this book, but I'm not surprised. That's one of the things I loved about the Jack Blank series as well–always a twist on the horizon! I'm sure there will be more in the rest of the series.
5. The stakes – Just when you think you understand what's at stake for Dean, things step up a notch–but not necessarily in a life-or-death way. Yes, he has to face life-threatening trials, but the stakes end up hitting him even harder than his life as he has to decide who he wants to be as a person. Very well-done.
Have you read this book yet? Or the Jack Blank series? Let me know if you're a Matt Myklusch fan in the comments!