I've been anxiously awaiting Melanie Conklin's COUNTING THYME for what seems like forever. We've been Twitter friends for years, and she even read a partial of one of my manuscripts once (thanks again, Melanie!), after which she recommended I read THE BURNING SKY by Sherry Thomas. Love the whole series! In any case, COUNTING THYME completely lived up to my expectations, and I'm thrilled to review it for MMGM.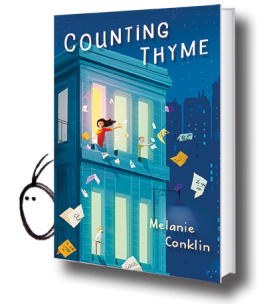 When eleven-year-old Thyme Owen's little brother, Val, is accepted into a new cancer drug trial, it's just the second chance that he needs. But it also means the Owens family has to move to New York, thousands of miles away from Thyme's best friend and everything she knows and loves. The island of Manhattan doesn't exactly inspire new beginnings, but Thyme tries to embrace the change for what it is: temporary.
After Val's treatment shows real promise and Mr. Owens accepts a full-time position in the city, Thyme has to face the frightening possibility that the move to New York is permanent. Thyme loves her brother, and knows the trial could save his life—she'd give anything for him to be well—but she still wants to go home, although the guilt of not wanting to stay is agonizing. She finds herself even more mixed up when her heart feels the tug of new friends, a first crush and even a crotchety neighbor and his sweet whistling bird. All Thyme can do is count the minutes, the hours and the days, and hope time can bring both a miracle for Val and a way back home.
Here are the five things I loved most.
1. The title – Yes, there's a reason her name is Thyme, and it's explained. But this title has multiple meanings and I love the play on words. It's just perfect on so many levels.
2. Thyme's family – I loved every member of this family, from Thyme's mom trying to hold everyone–including herself–together, her dad maintaining some fun where possible, her sister acting out, and her brother surviving. And where did that leave Thyme? That central question invested me from page one.
3. The friendships – There were multiple friendship stories happening within the book: Thyme and her best friend back home, Thyme and the girls at school, Thyme and the boy at school, Thyme observing the friendship between the girls at school. I liked how Thyme had to sort out these friendships and discover how she fit into each one.
4. The sound production team – How cool that Thyme found a project in the midst of everything else she was going through. I enjoyed reading about her experiments finding everyday objects that would make the desired sounds for the play. It was an interesting subplot that also fit very well into the overall story as she had to decide where this Thyme project fit into her family.
5. Mrs. Ravelli and Mr. Lipinsky – I loved both of these characters. They were polar opposites, and yet they both played critical roles in helping Thyme adjust to life in New York and giving her purpose. Plus, they're both extremely well-written characters. I'd really like to try that cake Mrs. Ravelli baked for the Owens …
If you haven't read COUNTING THYME yet, I suggest you do so. I have a feeling this one will be getting some award attention.