With the NESCBWI Conference having happened over the weekend, it seems appropriate for me to review a book by an author I met at last year's conference. No, I didn't go again–it's a bit of a trek for me–but I'm pleased to have found many authors last year whose books I will be picking up as they come out. Ronni Arno is one of those. I thoroughly enjoyed RUBY REINVENTED, and her second book, DEAR POPPY, is equally delightful.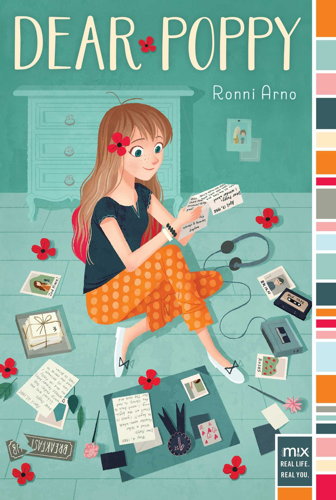 When twelve-year-old Poppy moves to the country, she discovers a secret stash of letters that give her a unique connection to her late mother in this M!X novel about friendship, first crushes, and family drama.
City girl Poppy has always wanted a best friend, but never felt enough of a connection with anyone to gain BFF status. Even without a BFF, Poppy is horrified when her father decides to move her and her older brother out to the family farm. Away from her beloved city and away from memories of her late mom—a fresh start for everyone.
And after a weird first week at her new school, Poppy is convinced she is destined for a boring year—until she finds a stack of letters from 1985 hidden in the barn of the old farmhouse that they move into. Even better? Those letters are addressed to Poppy…from her mom. Poppy doesn't know what supernatural event brought these letters to her, but she doesn't care. All she knows is that she finally has the connection she yearns for. Plus, her mom seems to understand everything that Poppy is going through: not quite fitting in, the desire to put down roots, and the heartbreak of losing a loved one. Has Poppy discovered the friend—and acceptance—she's always wanted?
Here are the five things I loved most:
1. The opening – The contrast of the first two sentences immediately drew me in, so I'm going to share them here. I think they not only show you a lot about both Poppy and her brother, but they also demonstrate something about the nature of grief, which is a theme in the book.
My brother is smiling so hard I think his cheeks are pinned to his ears. This would be fine, of course, if we weren't at my grandad's funeral.
2. Poppy's dad – I love how Poppy's relationship with her dad changes throughout the book, as he transforms from Old Dad to New Dad (also love that she makes that distinction). It's a tough lesson that sometimes parents take a long time to come out of their grief, but it's a true one.
3. The letters – The letters from Poppy's mom were so perfectly timed to what was happening in Poppy's life and a perfect example of how middle school is the same whether it's 1985 or 2016. (Wow, this sounds a lot like my last review for ONCE UPON A KISS, except swapping out high school for middle school.)
4. Britt and Brody – I love how there is so much depth to these two characters. You see the surface of the cute popular boy who doesn't like confrontation and the rebel outcast who's all about trouble, but when they're at home the twins have a lot of the same interests–including Poppy and gardening.
5. The resolution – Poppy has a very clear idea of why she's in the country and how everything should turn out. As a reader, I had a different idea of where the story was headed. I won't tell you who was right, just that the ending was very satisfying :).
I will definitely be picking up Ronni Arno's next book. Actually, the next one on her site is an anthology featuring another favorite author of mine, Jen Malone. Looking forward to BEST. NIGHT. EVER!