Back in May, I was supposed to go to New York and have lunch with my editor and agent. There were crazy storms going on around New York City, and my flight got cancelled three times in a row. Finally we had to give up on the trip. The next week, I received a surprise package from my editor–four ARCs she'd picked up at BEA along with a lovely note saying she hoped we'd get another chance to meet up. I have a trip scheduled in less than a month, so fingers crossed there are no weather events–or injuries ;)–in the meantime!
Anyway, one of the ARCs she sent me was SCARS LIKE WINGS by Erin Stewart, which releases on Oct. 1. from Delacorte/Random House. I admit I was a bit intimidated by the subject matter, afraid it would be a book that'd make me cry. Instead, this book surprised me in the best possible way. It's not without sorrow and hardship, but it also has humor and is full of perhaps my favorite emotion of all–hope.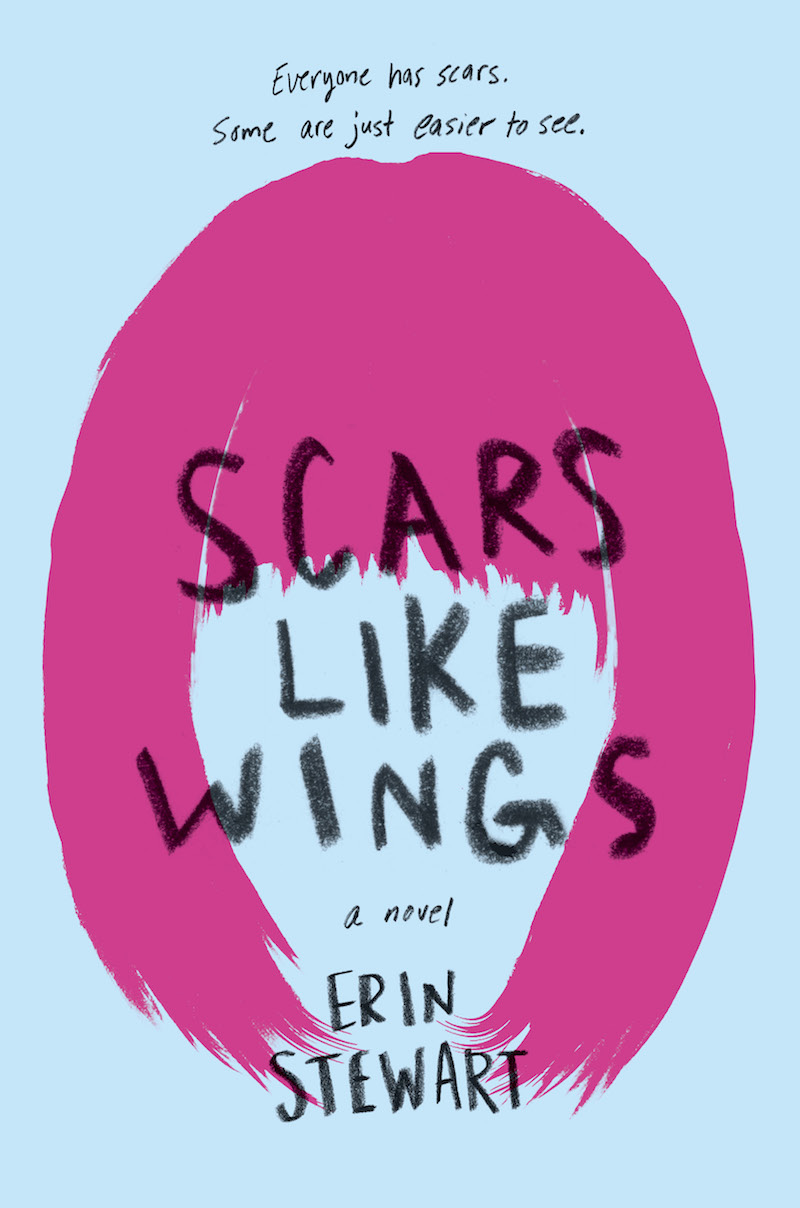 Ava Lee has lost everything there is to lose: Her parents. Her best friend. Her home. Even her face. She doesn't need a mirror to know what she looks like–she can see her reflection in the eyes of everyone around her.
A year after the fire that destroyed her world, her aunt and uncle have decided she should go back to high school. Be "normal" again. Whatever that is. Ava knows better. There is no normal for someone like her. And forget making friends–no one wants to be seen with the Burned Girl, now or ever.
But when Ava meets a fellow survivor named Piper, she begins to feel like maybe she doesn't have to face the nightmare alone. Sarcastic and blunt, Piper isn't afraid to push Ava out of her comfort zone. Piper introduces Ava to Asad, a boy who loves theater just as much as she does, and slowly, Ava tries to create a life again. Yet Piper is fighting her own battle, and soon Ava must decide if she's going to fade back into her scars . . . or let the people by her side help her fly.
Here are the five things I loved most about this book:
1. The first line – I could tell from the very first line that this book was going to be more than the tearjerker I'd feared.
One year after the fire, my doctor removes my mask and tells me to get a life.
This first line sets up the tone of the whole book. It clearly shows the reader this isn't going to be an easy story, but at the same time, Ava hasn't completely lost her sense of humor. Because obviously that isn't exactly what the doctor said.
2. The premise – As I mentioned, this premise intimidated me at first. I expected the character's life to be hard–and of course it is–but there is so much more to this story. I appreciated experiencing the viewpoint of a burn survivor, including not only the physical but emotional scars that come with it, as well as the hope for moving forward.
3. Musical theater – Wizard of Oz! Wicked! These two musicals play a big part in the story, but there are countless other musical theater references thrown into the book. I love how singing and acting play a part in Ava starting to accept who she is now.
4. Asad – Ava doesn't know what to make of Asad when she first meets him, ultimately chalking up his demeanor to being clueless, but that's what I loved about him. He didn't fit into a set box, including the boxes Ava had created to explain how people usually reacted to her. He remains a great character throughout, never quite sticking to what you expect of him.
5. Ava's family – Here's one area where the story is quite heart-wrenching (although not the only one). Ava lives with her aunt and uncle, who took her in after Ava's parents and cousin, their daughter, died in the fire. It's a relationship fraught with anguish and missteps as they continue to figure out how their new family fits. As challenging as this part of the story was, I loved it too, because it felt real to me.
So, I said that this story surprised me because it wasn't just a tearjerker, but I do still feel like I need to point out it tackles some tough subjects, such as bullying and depression. However, ultimately I left the story feeling hopeful for the characters, and for me, that made it a book I'd read again.
Definitely check out SCARS LIKE WINGS when it comes out in a couple of weeks!