My son read another whole series this week! I've actually read this one too, and it's fantastic. Let's see what he has to say.
---
So now that I know how to actually do a series review, I don't think I'm going to do mini reviews. Last week it took me 4 hours to do the review and I don't have that time. But, this time I am going to highlight some of my favorite things. So, here's my overview of the series.
Series Overview
The Jack Blank series is a trilogy by Matt Myklusch. It is about a boy named (guess what!) Jack Blank. The book names in order are: THE ACCIDENTAL HERO, THE SECRET WAR, and THE END OF INFINITY. In these books, Jack Blank finds himself to be in a horrible orphanage only to be taken by surprise when he turns out to be from this magical place called the Imagine Nation and has superpowers. But then, things really start to happen… I'll leave you at that! This is a review, I'm required by law to get you to read the book. So if that means I stop talking about it at certain points to hook you, then that's okay! I have to do my job. Anyway… let's get on to my "What I Liked" paragraph.
What I Liked
I really liked the characters. In this book, Jack, as a character, is amazing. He's just the right person to keep the story moving, and he reacts very well to everything happening around him. And, for people like me, he is agreeable with his actions even when sometimes they get him in trouble. It's not like you're thinking "[Grumbling voice] Oh Jack, why ever did you do that." Also, another character, Smart, who you meet just as he gets to the Imagine Nation, is really good at making Jack's life hard and causing the needed problems along the way. Skerren and Allegra are some of my favorite characters in the whole of all the books. They are people Jack meets and are skeptical at first, but become great friends.
I liked the plot. Now, for this one, I'm not going to go into too much detail because I don't want to spoil the book. But I will say that you're already getting surprised in the 3rd chapter.
I don't know what to say. It's just a great book. I think I'm going to stop before I strain my brain too hard trying to find specific things that don't give anything away and start to give things away.
End
So, I forgot to do my job throughout it so… you really need to read this book. And that's not just me saying that because of a so called "Job" that I think I'm important enough to even have a job. But go read this book right now. So, thank you for giving me your time to read this review! Bye!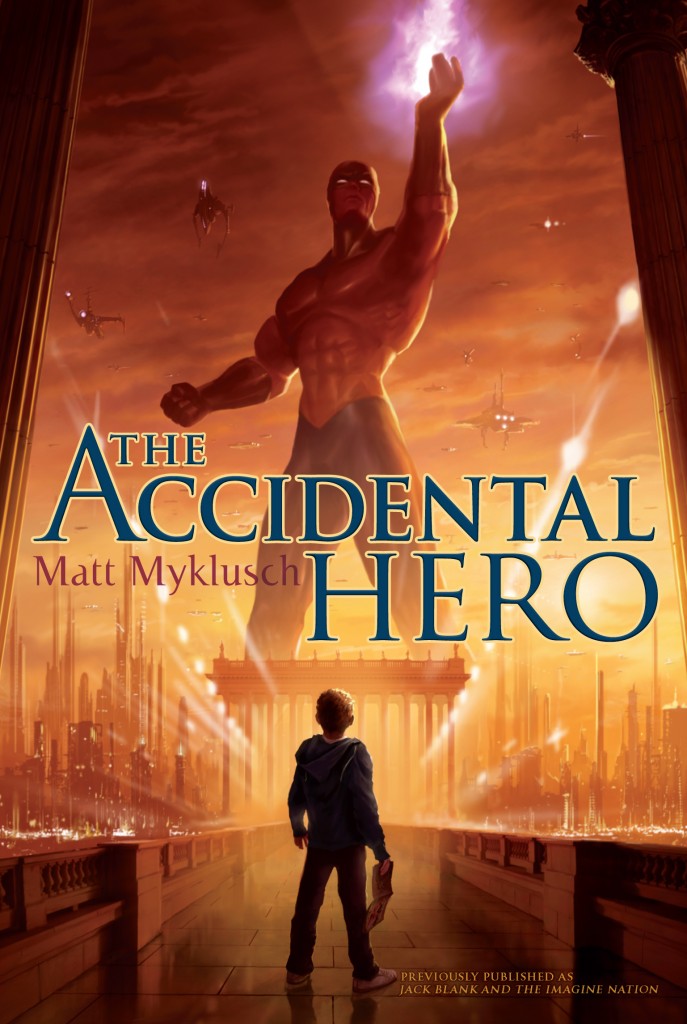 Jack Blank doesn't know who or where he comes from. He doesn't even know his real last name. All Jack knows is his bleak, dreary life at St. Barnaby's Home for the Hopeless, Abandoned, Forgotten, and Lost. Everything changes one morning when Jack receives two visitors. The first is a deadly robot straight out of one of Jack's favorite comic books, that tries its best to blow him up. The second is an emissary from a secret country called the Imagine Nation, where all the fantastic and unbelievable things in our world originate, including Jack.
Jack soon discovers that he has an amazing ability— one that could make him the savior of the Imagine Nation and the world beyond, or the biggest threat they've ever faced.
---
A little different from last week's review, but having read this series, I'll just add that it is full of twists, and it would be very easy to give too much away, so I can understand his hesitation.