I read so many fantastic books in 2020, it's really hard to narrow down favorites. As I was reading back through my reviews from the year to decide, one of my major determining factors was the book's unputtdownable factor (I guess that's not a word, but oh well). So you'll see how quickly I read as a key recommendation for several of these. But it definitely isn't the only reason some of these books ended up making the list.
Even so, I'm going to cheat a bit and give you my top 10 plus a couple of honorable mentions 😉.
The top 10 are listed in alphabetical order by author.
---
Remember how I said not being able to put a book down will help it get on this list? Well, I read 10 BLIND DATES by Ashley Elston is in a single day. Sophie stays home from Christmas break to be with her boyfriend—only he breaks up with her. Her huge family decides to console her by setting her up on 10 blind dates (giving her Christmas Eve and Day off).
From participating in a nativity to bowling in costume, the dates were hilarious and sometimes cringe-worthy. I half-expected every guy picked out to be awful, but that wasn't the case at all (I mean, some were). And the actual love interest was fantastic. Sophie's family was so crazy but also wonderful, and there was a more serious side plot going on with Sophie's sister on bedrest, about to have a baby. I think sometimes writers are afraid to include a serious note in a romantic comedy, but it added a really great balance to the story. After all, that's how life is.
---
It's so fun when I get to feature one of my writer friends on my favorite reads list! TRACKER220 by Jamie Krakover released in October, and it's set in a futuristic version of my hometown, St. Louis.
Through thoughts and blinks, Kaya can access anyone or anything on the tracker network. But the authorities monitor everything—where Kaya goes, who she talks to, and what she searches. And without the ability to turn it off, Kaya and her family can't observe a tech-free Shabbat. To fix the glitch, the authorities slice into her skull to reset her tracker, leaving Kaya to question more than the system's invasion into her faith.
Evading the authorities requires some serious tech skills the rogue underground Ghosts can offer. But Kaya's not sure she can trust them—even if their top tech wiz, Bailen, has interest in her running deeper than her bum tracker. Kaya must decide if gaining freedom is worth losing her tracker's infinite knowledge—because to take down the tracker network, she must betray the only tech she's ever known.
This book is so fast-paced, and the stakes keep rising with every chapter. Go check it out!
---
I read TWEET CUTE by Emma Lord in a single day back in March, despite being in the midst of drafting a book and starting eLearning with my kids. That should tell you something about how compelling it is. My original review said, "It's smart, fun, fast-paced, and a great escape from the anxiety and worry around us."
It's basically You've Got Mail but with restaurants instead of book stores. Pepper runs her family fast food chain's Twitter account, and when the chain steals Jack's family deli's grilled cheese recipe, he engages in a Twitter war with her. Meanwhile, at school, they've never gotten along, but start getting to know each other and maybe even fall for each other. Add in an anonymous app they're talking to each other on, which the reader is clued into. So good!
---
IF THESE WINGS COULD FLY by Kyrie McCauley is not a book I'd typically pick up based on the description because I tend toward lighthearted, but Kyrie was one of the amazing writers who beta read YOUR LIFE HAS BEEN DELAYED for me, and so I read outside my comfort zone. I'm so glad I did, because this book is fantastic!
It's set in small-town Pennsylvania, which is being invaded by tens of thousands of crows. They don't bother 17-year-old Leighton, who already lives in a house that inexplicably repairs itself every time her father loses his temper and breaks things. (Note that Kyrie includes a content warning on her website that the book includes realistic depictions of domestic violence that may be disturbing for some readers.) She's focused on finishing out her senior year and deciding whether going away to college is worth leaving her sisters. While her father's rage and the crows both increase, Leighton allows herself to get close to her charming classmate Liam.
The book tackles the very serious topic of domestic violence, but there's also sisterhood with all of its complications, first love with its mix of confusion and exhilaration, and a girl finding her internal strength. PLUS, there are the crows, which are both magical and scientific. It's a book that lingers with you, and I do try to include at least one of those every year.
---
There are a few premises that will always catch my attention, and Sliding Doors is one of them. In ONE WAY OR ANOTHER by Kara McDowell,  Paige Collins, who lives in debilitating fear of making the wrong choice, is presented with two last-minute options for Christmas vacation: Go with her best friend (and longtime crush) Fitz to his family's romantic mountain cabin or accompany her mom to New York.
A slippery grocery store floor sends her into both possible realities. She alternates between the two realities with tension mounting at the end of each chapter so that I could not put the book down, equally invested in each reality and impressed by how each one was leading toward resolution.
The book also addresses Paige's anxiety and how she starts to work through it. The romance is fantastic, but the internal character journey is also super important. 
---
Another sure way to get me to read a book is to focus on food, and Laura Taylor Namey more than delivers in A CUBAN GIRL'S GUIDE TO TEA AND TOMORROW.
Lila's sent to England to get over the trifecta of heartbreak—the death of her grandmother, dumping by her boyfriend, and desertion of her best friend. Living with family at their Winchester, England, inn, she finds herself in their kitchen, and starts exploring with a boy whose family owns, of all things, a tea shop.
I loved Lila's expansive family. I loved how she grew throughout the story. I loved Orion (the tea shop boy), as well as all of his friends. Did I mention I loved the food??
But who cares that I loved this book when it's been recommended by REESE WITHERSPOON? That's right, it's a Reese's YA Book Club pick! How cool is that?
---
When I reviewed OPPOSITE OF ALWAYS by Justin A. Reynolds in July, I said I already knew it would be one of my favorite reads and you could hold me to it in December. No need 😀.
Jack and Kate meet at a party and instantly bond. Jack falls for Kate, but she dies, and he's zapped back to the moment he met her. He's set on a four-month-long Groundhog Day-type loop, trying to figure out how to save her. In addition, he's navigating his relationships with his two best friends and his parents.
I love the questions this premise poses: If you could do things over, how would you change your actions? What ripple effects do your actions have on others? How many times does it take for you to get things right? I loved every single character. None of them were perfect—except maybe Jack's parents. I do love it when characters have awesome parents.
---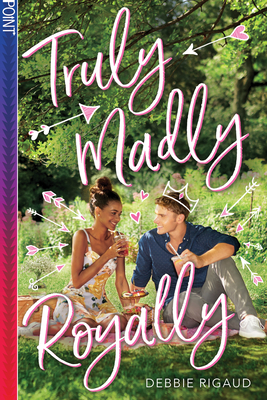 TRULY MADLY ROYALLY by Debbie Rigaud is one of those books I kept intending to pick up for months, and then once I did I kicked myself for not reading it sooner because I adored everything about it from the very first page.
Zora Emerson has just enrolled in a prestigious summer program and unexpectedly clicks with Owen Whittelsey, prince of a small European country. Zora is a strong teen girl who loves her community and doesn't let obstacles keep her from going after her goals. The chemistry between Zora and Owen is adorable; their corny jokes are the best. And then there's a great cast of additional characters—Zora's best friend, Skye, Zora's family, the kids at her program, and the new friends she makes at school. As a writer, I also loved the plotting—so well done!
---
When I read the description for THE PAPER GIRL OF PARIS by Jordyn Taylor, I was immediately intrigued by the dual timelines. In the present, Alice has just inherited a mysterious apartment that has been locked for more than 70 years. Once she enters, she discovers her grandmother had a sister, and the story flashes back to Adalyn during World War II, working in the French Resistance against the Nazis.
I loved how this book followed two distinct, heart wrenching family stories—Alice struggling with her mom in the present and Adalyn heartbroken over keeping secrets from her sister (Alice's grandmother) in the past. The tension within each timeline and even between the two was fantastic. I found myself completely stressed out over Alice's concern about what her great-aunt was involved in. Plus, there was a really sweet love story in the present and a deeper one in the past. The resolution was very satisfying.
---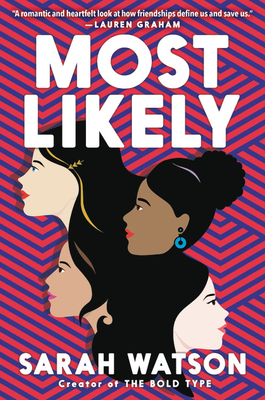 BAM! That's how I felt at the end of MOST LIKELY by Sarah Watson. But in a you're a totally brilliant writer and how do I do this myself way.
The book opens with a woman about to be inaugurated as president, holding the hand of her husband, who she met in high school. Then the story flashes back to senior year of high school and four best friends, all of whom keep encountering a boy with this same last name.
I loved how individual each of these girls' goals and struggles were, the strength of their friendship, their passion for saving the park where they met as kindergartners. The four POVs are extremely well done—so well done that I stayed in suspense about which girl would end up with the boy whose last name matched the soon-to-be-president's husband right up to the end. Bonus points for one scene that made me both swoon and laugh at the same time!
---
Honorable Mentions
Okay, now I have two categories for honorable mentions. First up is sequels! Because in my reasoning, you can't just go read these books unless you've read the first books in the series. Plus, I can't really tell you too much about them or I could spoil something. But both of these books were sooo very good and I really need to mention them.
A HEART SO FIERCE AND BROKEN by Brigid Kemmerer is the second book in the Cursebreakers series. I loved how this one followed two completely different characters from the first book and drew me in just as deeply. I can't wait for the third book, and luckily it comes out in January!
AURORA BURNING by Amie Kaufman and Jay Kristoff is book two in the Aurora Cycle series, which is like a YA Guardians of the Galaxy. It's hilarious and fun and crazy, and the second book ended on the most horrible cliffhanger ever! There isn't a date listed for book three yet, but if you like adventure, this series is a ton of fun.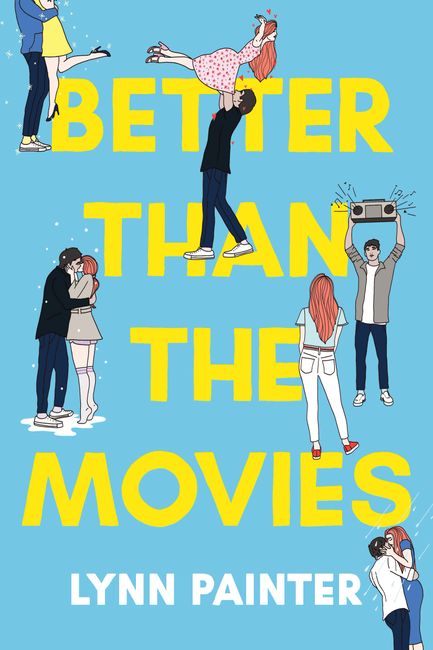 I'm sticking BETTER THAN THE MOVIES by Lynn Painter with the Honorable Mentions not because it shouldn't be in my top ten but because you have to wait until May to read it, and I just want to put it on your radar. It's the first book I've read by a fellow 21der, and if they all end up being this good, I'm going to be broke by the end of the year!
It's about Liz Buxbaum, who loves romantic comedies, and when her fifth grade crush moves back to town, she devises a strategy to make him fall in love with her, using tactics from her favorite movies. She enlists the help of her infuriating next door neighbor, Wes, and then… everything starts going wrong. It's an absolutely delightful read, and I'll plan on doing a review closer to when it releases to make sure you all remember to pick it up!
---
So that wraps up my favorite reads of 2020! On Thursday, I'll post my full 2020 reading list. I'm just now starting to read ARCs (Advance Reader Copies) of 2021 books, and I expect that will comprise a significant portion of my 2021 reading.
What were some of your favorite reads of 2020? Do any of our favorites overlap?