Review time! My schedule got a bit crazy toward the end of 2021 (not even going to get into why), so a couple of these reviews are actually holdovers, but I didn't want to miss out on covering them here on the blog.
It's quite a variety, from contemporary young adult to contemporary with a hint of magic to a retelling of a classic novel set in a Freedpeople's Colony during the Civil War. There should be something for every reader!
---
I first found Abigail Johnson through the amazing cover recreations she does on Instagram, but then I read the descriptions of her books and had a feeling I'd love them. I was right! EVERY OTHER WEEKEND is the first one I picked up.
It's about Jolene and Adam, who get to know each other over the course of every other weekend at their dads' apartments. Except Jolene's dad is never there, only his girlfriend. And Adam is angry with his dad for not trying harder to fix things with his mom. This leaves plenty of time for Adam and Jolene to spend together.
They need each other in different ways, and at first it's only friendship. Jolene, especially, doesn't really believe in love anyway. Her parents certainly never demonstrated it to her or each other. But just when it seems like Jolene and Adam are going to try for something more, Adam's family starts making strides toward reconciliation. It's great for Adam, but complicated for Jolene. She wants to be happy for him, but she doesn't want to lose him.
It's a complicated story in so many ways, but I really loved how Adam and Jolene grew together and how the book showed such different perspectives of families. I also really appreciated the resolution at the end. It's a more serious read but so worth it!
---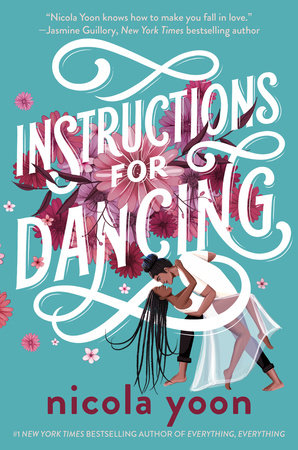 I really enjoyed Nicola Yoon's other two books, and I'd heard great things about INSTRUCTIONS FOR DANCING, so I was excited to read it. Plus, a YA about ballroom dancing? Sign me up!
This book was actually so much more than I was expecting. Evie used to be all about love and had shelves of romance novels. Then her dad cheated on her mom, and they got divorced. She hasn't talked to him in months, even though they used to be super close. She packs up her romance novels and takes them to a Little Free Library, where a mysterious old woman insists she take the only book there in exchange–Instructions for Dancing. Here's where the book took an unexpected turn. When Evie sees couples kiss, she gets a vision of their entire relationship, from beginning to end–and they always end.
The book has a stamp to return to a dance studio, and when she goes, she somehow ends up agreeing to an amateur ballroom dance competition with the owners' too hip grandson, with whom she immediately starts bantering. The more she gets to know him, the more she likes him–except she doesn't believe in love anymore. Right?
This book was about Evie figuring out what love meant to her, but it was also about forgiveness and friendship and so much more. I really don't want to give away anything more, but it legit made me tear up, and I liked it anyway, and that's rare.
---
I read HOW NOT TO FALL IN LOVE by Jacqueline Firkins in a single day. I just had to get to the end!
Harper works in her mom's wedding dress shop and has been exposed to the worst side of brides, making her skeptical about love. Her best friend, Theo, on the other hand, wants nothing more than to fall in love—and frequently does. But then he also gets his heart broken and she helps him pick up the pieces. They make a deal: she'll teach him how to date without falling in love as long as she opens herself up to dating and proves she can do the same thing.  
It's clear from the description where this story is headed … or is it? Because there's Theo, who isn't afraid to cry, plays the accordion, is seriously into medieval cosplay, and helps Harper with her SAT words. But there's also Felix, the guy Harper has been admiring from afar forever, and once she makes the agreement with Theo, she opens herself up to him. He brings her coffee and takes her for ice cream and leaves her longing for a kiss after every outing. The tension is off the charts! 
It's definitely a romance, but it's more than that, as Harper works through opening herself up to real connection. Like I said, I couldn't put this book down!
---
WHEN YOU GET THE CHANCE by Emma Lord is such a quick and delightful read. It's billed as a YA Mamma Mia, as an argument with the father who's raised Millie leads her to search for the birth mother she's never known. All she wants is to become a Broadway star, and she believes looking into her roots will help her discover more about herself. It leads her to three different women, expanding her friendships and world. It also sends her into competition for an internship with her school arch-nemesis, Oliver. 
My 2022 book has a musical theater focus, so obviously I loved all the theater references, even more so with the book taking place in New York City. But I especially enjoyed Millie's journey, as she learns more about herself, her dad, and gets to know these women who were a part of his life before. The story took some unexpected twists.
And, of course, there's the romance, which is just as fantastic as in all of Emma Lord's books. Loved the way the relationship grew between Millie and Oliver! 
I could gush about this book a lot more, but really you should just go read it yourself 😍.
---
So, I realized pretty early into RADHA & JAI'S RECIPE FOR ROMANCE by Nisha Sharma that it was the companion novel to another book. However, as the other book was a YA romance and I didn't feel it was spoiling anything to know those characters got together, I decided to go ahead and read this one anyway, and I'm so glad I did!
Told in dual points of view, the book follows kathak dancer Radha, who discovers an unwelcome truth about her mother at the International Kathak Classics semifinals and drops out. Her parents separate, and she and her mother move to Philadelphia, where she meets Jai, captain of the Bollywood Beats dance team, at her new performing arts school. They instantly connect, but Radha doesn't want to perform ever again, and Jai's team needs her, so that's an instant conflict too. Also in the background is Jai's struggle between wanting to apply to college and feeling like he needs to stay home and help out with the family business.
The story tackles some serious issues, including Radha's ongoing therapy to deal with her anxiety about performing again, as well as the results of stroke within Jai's family, both adopted and biological. I really loved both Radha and Jai's growth in the story. Plus, there's a whole subplot with Radha learning to cook with her dad (I always love books with food!) and, of course, the dancing!
Definitely check out this book, except maybe learn from me and read the companion book first (called MY SO-CALLED BOLLYWOOD LIFE).
---
I kept seeing recommendations for SO MANY BEGINNINGS by Bethany C. Morrow everywhere, and I finally had a chance to read it over the holidays.
So, I have a confession to make: I've never read LITTLE WOMEN. I'm not sure how I missed it. I guess I mostly focused on British lit instead of American lit? My only exposure is the Winona Ryder version of the movie.
Anyway, I was completely engrossed in this retelling, which follows four Black sisters coming of age in North Carolina in a Freedpeople's Colony during the Civil War. Each sister has unique talents and goals. Meg is a teacher and longs for a husband. Jo is a writer with ideas she wants to share beyond her colony. Beth is a seamstress searching for a purpose. And Amy wants to move.
I loved following their stories over several years and learning so much history as well. I honestly don't know much about this time period, and Bethany C. Morrow shares about the research she conducted for this book. I love when I can absorb history along with an immersive story. This book totally lives up to all the hype!
---
So that's my roundup for, well, really the past few months. I'll try to be more on top of my reviews in 2022.
What have you been reading lately? As always, I'm continually searching for my next great read!