It's review roundup time! Every summer I think, "Oh, now I'll finally have more time to read!" And then, somehow, I have less time? I think it's because I'm driving around to a different camp every week. Now I just joined TikTok and am trying to figure that out too (you can follow me @michelleimason if you'd like!), so that's another distraction. I have no idea what I'm doing yet, but I'm there!
Anyway, back to the reason for this post–books! What I love about all of these is that they were so completely engrossing they got me to stop thinking about the million and one things I had to do for my kids or promoting my upcoming book. And there's a good variety, so hopefully you'll find one to add to your TBR too.
---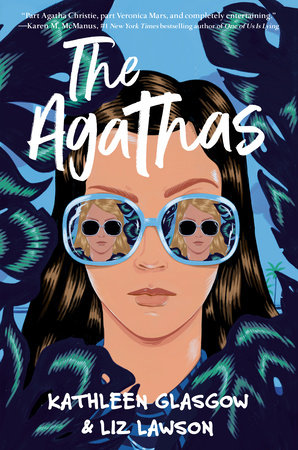 I love Agatha Christie. I don't remember when I read my first one–probably when I was a teenager like the main character, Alice–but I have a whole collection of them on my shelves. So the idea of a book centered around two teens trying to solve a mystery using Agatha Christie as their inspiration is perfect. But then, the actual story turned out to be just as gripping of a mystery in itself. I seriously couldn't stop turning the pages of THE AGATHAS by Kathleen Glasgow & Liz Lawson.
The story's told in alternating viewpoints. There's Alice, who used to be one of the popular girls, but last summer she disappeared for five days without explanation. There was a whole manhunt for her, and the town–and her friends–weren't happy about it, especially since she didn't explain afterward. Then there's Iris, who is assigned to tutor Alice because the homeschooling after the disappearing act wasn't so great.
When Alice's former best friend disappears and everyone, including the police, say she's "pulling an Alice," she doesn't believe it. Turns out she's right, and she and Iris start up their own investigation into what happened to Brooke. The twists and turns are so good in this book, and I loved all the Agatha Christie references too. I totally get why I was seeing this book everywhere.
---
Have you ever read a book and thought, "This author was inside my head?"
I mean, probably only if you're also an author. But I totally wrote a YA version of The Truman Show, which is basically what THIS IS NOT THE JESS SHOW by Anna Carey is. So for the first half of the book, that's what I was thinking.
Jess becomes suspicious that her life might not be everything it seems when a device falls out of her friend's bag (clearly an iPhone), and then everyone makes up weird stories about it. Things get even stranger when her sister's long-term illness suddenly turns deadly, and her dog isn't her dog anymore.
Jess wants answers, and she starts to get them, but then she has to decide what to do about her life going forward.
This book was such a quick and interesting read. Jess lives in 1998, so I also found the nostalgia interesting (hey, I also wrote a book with a character from 1995, and you can get that one 😉).
I mentioned that the first half of this book reminded me of the one I had written, although not completely. Because as all writers know, any two authors can take the same premise in a completely different direction. This one definitely ended up being more of a thriller, while mine was a YA romance. But such a fascinating read!
---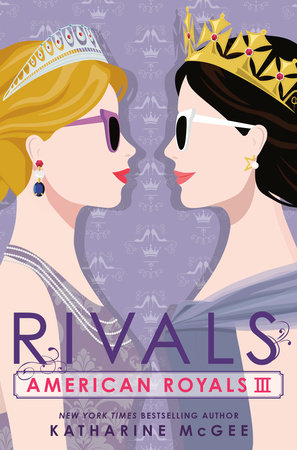 I have been waiting for the third book in Katharine McGee's American Royals series for what seems like forever, but I guess it was only two years? I read the first two books in quick succession, and a third wasn't guaranteed, but it finally arrived!
So, full confession, I was not happy with the end of the second book. Not going to give any spoilers, but let's just say the second book changed around a lot of the relationships. I was okay with much of that. But also, I was anxious for a third book because I had confidence in Katharine McGee, and let me say, that confidence was well placed.
This third book in the series once again was unputdownable, but it also developed one of the characters–Daphne–in a way I found quite surprising. I pretty much hated her before, and I still don't love her, but I feel like I understand her now and am even sort of rooting for her–maybe just not in the way she wants.
Oh, this all sounds really vague, doesn't it? Well, I just don't want to spoil anything if you haven't read these books yet. Please click on that link I left for the first book and start there.
Side note: I think these books started out as YA, but they feel pretty adult to me now 🤷‍♀️.
---
If you're looking for a thriller that keeps you turning pages and gasping at new revelations, I highly recommend GIRL ON THE RUN by Abigail Johnson.
Here's the setup: Katelyn and her mom are always moving, but she's hoping this time they can really put down roots. So even though her mom has always been super strict about internet use, she creates an online dating profile for her mom, in hopes if she makes a love connection they can stay. But it has the exact opposite effect, as "they" find them, and Katelyn and her mom are suddenly stealing cars, hopping fences, and running for their lives.
When Katelyn's left without her mom, it starts to become clear how everything her mom has taught her in life–all the games about knowing all the escape routes–were training for this day. She ends up running with a guy she's sure she can't trust but wants to, and all sorts of secrets start coming to light.
It's a total thrill ride you won't be able to put down. But also, do be aware if you're at all squeamish, Katelyn and her running partner go through A LOT in this book!
---
So, I have a whole stack of library books plus some others I've purchased at local signings to read. I'm wondering how many I can get through before the end of the summer…. probably not as many as I'd like!
More reviews to come soon–including some middle grade again!