I have so many amazing young adult recommendations for you this week! As with the middle grade books I shared a couple of weeks ago, these are all debut authors. Reading books by the authors going through debut year with me has been one of the most rewarding aspects of this journey. I used to just pick up books as they caught my eye. This year I have a list! And I'm trying to read as many of them as I can to share with you 😀.
On to the recommendations…
---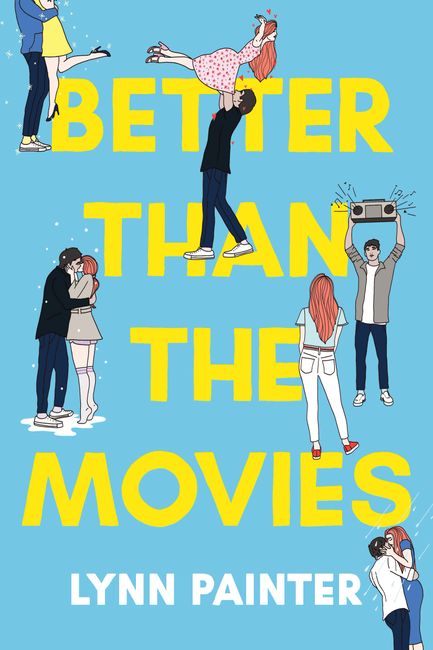 BETTER THAN THE MOVIES by Lynn Painter was the very first ARC I read by a fellow 2021 debut back in December, and I loved it so much I highlighted it among my favorite reads of 2020. It's the story of Liz Buxbaum, who loves romantic comedies and wants her own. So when her fifth grade crush moves back to town and appears to be as dreamy as ever, she's convinced he's the Mark Darcy to her Bridget Jones. She enlists the help of her infuriating next-door neighbor Wes to help her get Michael's attention, and that's when everything starts going wrong.
I loved everything about this book. It includes so many fantastic rom-com tropes–enemies to lovers, a fake relationship, an unexpected friendship growing into more. Every chapter begins with a quote from a romantic comedy, and there were even some I haven't seen and need to check out! There are also completely adorable sketches at the beginning and end of the ARC; I assume they're also in the printed book.
This book is hilarious, with mishaps ranging from a bloody nose to someone puking all over Liz while she's trying to impress Michael, but it also has a deeper story of Liz's unresolved grief from losing her mom years before. That also bleeds into her other relationships, especially with her best friend. Basically, this book just hit all the right notes for me–humor, a great romance, friendship, and family. Plus a bonus of mentioning almost all my favorite movies 😍. This book was just a shot of pure joy. It released last week!
---
We're not even halfway through the year, but I'm already pretty sure WHERE THE RHYTHM TAKES YOU by Sarah Dass will be one of my favorite reads of 2021. I devoured this book in a single day back in February, and I'm still thinking about it.
It's a retelling of Jane Austen's Persuasion–and I am always up for new takes on Austen, but this one is especially well done. Set in Tobago, the story is centered around Reyna, whose life changed forever two years earlier when Aiden, her best friend and first love, moved away right before her mother died, leaving her to care for the family hotel. Now an international pop star, he's returning to stay at the hotel with his friends.
The relationships in this book are so well-drawn. Reyna feels a deep commitment to the hotel, based on her complicated relationship with her mother. Her best friend, Olivia, is about to leave for an elite art program she had once hoped to go to herself. And then, of course, there's Aiden. The romantic tension between them jumps off the page, and I loved how well snippets from the past were interspersed to give the reader glimpses of what had led to the present without giving it away too soon. The author's love for her home is evident in the evocatively drawn setting. I so appreciate being able to experience it. And there's a playlist included at the end of the book, so I'll be checking that out too!
WHERE THE RHYTHM TAKES YOU comes out tomorrow!
---
I'm not a dancer myself, but I've always been fascinated by dance, and ballet in particular is so beautiful. I enjoy attending the ballet, but I also can't imagine the dedication that goes into pursuing it as a future career–or the complete devastation that would accompany having that dream crushed.
THE OTHER SIDE OF PERFECT by Mariko Turk explores that theme, as Alina shatters her leg in a way that means she can never dance on pointe again. She joins the school musical as a substitute, where she begins to make friends outside the world of ballet.
I found this story completely gripping. Alina's heartbreak was so real. At times as a reader I started to feel as frustrated with her as the other characters felt, until I would remember that she had lost her lifelong dream, and there's no time frame on moving through that sort of grief. There was an important theme throughout about the racism she and her best friend had faced within ballet and how to reconcile loving dance while still working toward a better future for it. (Alina is half-Japanese and her best friend is Black.) I also really enjoyed the supporting cast of characters, and the romantic story line was both adorable and had depth. The tension between Alina and Jude was off the charts!
THE OTHER SIDE OF PERFECT also releases tomorrow!
---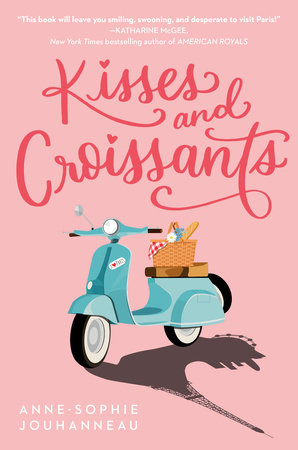 I ordered KISSES AND CROISSANTS by Anne-Sophie Jouhanneau all the way back in November, when I had a birthday gift card, and I am pleased to tell you that it lived up to all of my expectations. 
💋🥐💋🥐💋🥐💋🥐💋🥐💋🥐💋🥐
This book combines three of my favorite things—Paris, art, and romance! Also, like the book above, it's about ballet–although a different take. Mia goes to Paris to attend a competitive ballet program. While she's there, she works to uncover a family legend involving the work of Degas and also meets charming Louis, who is a delightful distraction. Add in Audrey, a rival from back home she doesn't expect to see in Paris, and things get really interesting!
I loved Mia's dedication to ballet and her journey discovering how to prioritize it in her life. I loved the romance and the jaunts around Paris, particularly the museums, which I could stay lost in for hours. I loved how the relationship evolved between Mia and Audrey. Basically, just loved it all!
And now I am dying for a visit to my local French bakery, but it's not like I need much of an excuse. I have been frequenting the bakery ever since my high school French teacher introduced us…
---
I am so in love with PRIDE AND PREMEDITATION by Tirzah Price I CAN'T EVEN!
I read this book in a day, then passed it on to my 13-year-old son, who has become quite the Jane Austen fan himself, and we enjoyed discussing it together. (Somehow he loves fantasy—and Jane Austen 🤷‍♀️.)
Anyway, as mentioned above, I love all P&P adaptations and retellings, and this is now one of my favorites. Basically, it's P&P with a murder mystery. Bingley has been accused of murder; his pal Darcy is defending him, and Lizzie wants to investigate and win the case herself. All the characters you know and love are there with the expected character traits. And all the characters you know and hate (too strong?) are there too…
Anyway, I don't want to spoil anything. So glad I already had someone in my own house to talk about the book with. Don't miss out on this fantastic retelling.
Oh, and best of all? There are more books coming in the series. Can't wait to see who gets murdered in the next book!
---
So those are my latest #the21ders reads. I'll have more soon!! What sounds good to you out of these?