Happy summer! My kids are out of school, and we're in full break mode. I'm sure many of you are as well, and I have some fantastic books to recommend, whether you're on summer break yourself, heading out on vacation, or just looking for your next great read. With a range of genres in this roundup, there should be something for every YA reader!
---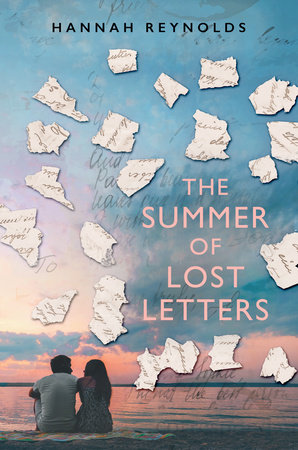 I love books that mix the present and past, so I was immediately intrigued by the premise of THE SUMMER OF LOST LETTERS by Hannah Reynolds. The story follows 17-year-old Abby Schoenberg, who's recently gone through a breakup and the loss of her grandmother. When a box full of love letters to her grandmother that aren't from her grandfather arrive, Abby sets out to discover more of her very private grandmother's story.
All Abby really knows about her grandmother is that she fled the Holocaust in Germany as a very young child. These letters are from a the head of a very rich family on Nantucket. She makes arrangements to work there for the summer and quickly encounters the man's grandson, Noah, who doesn't want her looking into the past at first. But soon, they start investigating together.
I loved how Abby gradually discovered more about her grandmother throughout the story, as well as the theme of how the past is such a matter of perspective for people. I really enjoyed the resolution of what she learned. I also loved the growing romance between Abby and Noah and how they both had to figure out who they were in order to be together. It's a truly fantastic story of complicated family, self-discovery, and first love.
THE SUMMER OF LOST LETTERS comes out tomorrow (June 15)!
---
Last year I did a post on 10 Story Elements That Always Hook Me, and one of them is twins. If the twins are separated at birth, discover each other, and secretly switch places–even better! I never get tired of this setup, and Sarena and Sasha Nanua put their unique spin on it in SISTERS OF THE SNAKE.
Princess Rani, daughter of a powerful raja, is never allowed to leave the gilded palace. Ria survives as a thief on the streets and has just been conscripted into the raja's army. She enters the palace to steal some jewels so she can flee the country when she comes face to face with Rani. Ria wants to discover who she really is, and Rani has a mission from her old tutor, who was put to death in the kingdom's infamous snake pit, so they switch.
There's intrigue both inside and outside the palace. I loved how the stakes kept rising on both sides. And as an occasional fantasy reader, the magical system was easy for me to follow. As the title implies, the magic involves snakes, and I have to give major props on the writing there because snakes freak me out, but I was really drawn into the snake bond. Also, the romantic storylines were believable and sweet. This book left me wanting more Ria and Rani!
SISTERS OF THE SNAKE also comes out tomorrow (June 15).
---
do know why they're running across a roof with that other person's foot going off the image and spray paint cans flying everywhere, well, I don't want to spoil anything. You really should read this book yourself!

The first time I saw the cover for KIND OF SORT OF FINE by Spencer Hall, I was like: I'm not sure what's going on here, but I want to find out! Even so, I still really had no clue why they were running across a roof based on the book description, which talks about seniors Hayley and Lewis getting partnered up for a project in TV production class. Now that I

What I will say is that this book has so many fantastic layers to it. Hayley is dealing with the aftermath of an anxiety attack that left her parked in a busy intersection until she had to be pulled from her car by police–and it was filmed by half the school. Lewis is stuck in the default of making jokes anytime things get serious, including with his friend Rebecca, who he's crushed on forever. Both individually and together, Hayley and Lewis start to figure some things out about themselves and who they want to be going forward. Along the way, their project helps them understand that there is more to everyone's story than what you see on the surface.

This book tackles some serious issues but also had me laughing out loud and took me by surprise when it twisted in directions I didn't expect. Such a great read!

KIND OF SORT OF FINE comes out next Tuesday (June 22).
---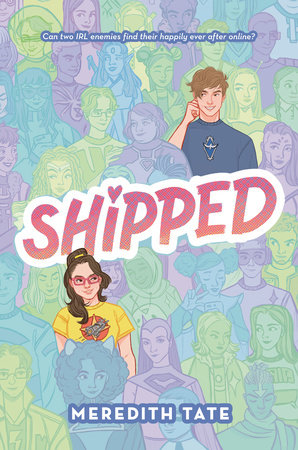 I've never delved into the the world of online fan forums like Stella and Wes in SHIPPED by Meredith Tate, but I love how Stella writes fan fiction fixing the unsatisfying cliffhanger ending of Warship Seven, while Wes draws fan art. Even better, I love that they first clash online over their differing opinions about the one-season show ending but slowly get to know each other under aliases.
Meanwhile, in real life, they're rivals for the coveted valedictorian position at school. And this isn't just a regular valedictorian position—it comes with a full ride scholarship to the school of the student's choice. Talk about stepping up the competition! The contrast between Wes and Stella is so well drawn. Wes's family is very well off, but he wants to attend a different school than his parents expect for him and needs the money to be independent. Stella will be the first in her family to attend college, so she needs the scholarship to avoid a lifetime of student loans.
The You've Got Mail setup of in-person rivals vs. falling for each other online is so well done. The pranks Wes and Stella pull on each other had me laughing out loud, but there were also so many serious moments that made their relationship believable and earned. I also really enjoyed the supporting characters and how they contributed to the overall story.
This book was such a quick and fun read, but it still tackled some serious issues in the background. Loved it all around!
SHIPPED is already out!
---
Like THE SUMMER OF LOST LETTERS above, this is another book that mixes history with the present.
WORDS COMPOSED OF SEA AND SKY by Erica George is about aspiring poet Michaela Dunn, who wants to attend a somewhat pricey poetry workshop at a nearby college. There's a scholarship available for the poet who writes the dedication for the statue honoring Captain Benjamin Churchill, a whaler who died more than 100 years earlier. When Michaela visits one of Churchill's supposed haunts, she discovers the lost diary of Leta Townsend, who clearly knew—and possibly loved—him.
The story alternates between Leta's diary entries and Michaela in the present. Leta is falling for the imperfect Captain Churchill, while Michaela is dealing with her own preconceived notions about love and the type of boy she should be with. Both stories are heartfelt, real and completely gripping.
I highly recommend you pick this one up! It's available now.
---
For the past two years, I've participated in Jessica Brody's 30 Books in 3 Months challenge on Instagram, and I'm going to attempt it again this year. With my book releasing at the end of August, my reading may slow a bit, but it's worth the attempt!
Do you have any summer reading goals?