Happy July! It's already been quite eventful for me. I thought this was when I'd be able to say "My book comes out next month!" Alas, my countdown has been pushed back a bit, and it's now more than two months again. BUT, I do have some other great books to tell you about.
Most of the books on my list today are already out, but this first one arrives on shelves tomorrow. I have some interesting variety for you, ranging from a contemporary romance with a speculative twist to a historical adventure with a female Indiana Jones. Some truly fantastic reads!
---
I absolutely adore Sliding Doors premises, so WHERE IT ALL LANDS by Jennie Wexler has been high on my to-read list all year. And it delivered 100 percent!
Stevie Rosenstein has just moved to another new town, and on her first day at band practice, she meets–and intrigues–best friends Drew and Shane. They both want to ask her out, and since they solve all arguments by tossing a coin, that's what they do. Heads: Drew asks her out. Tails: Shane asks her out.
Yes, it's awful for the boys to leave such a thing up to a coin toss, but it's a device for the story to flip. As readers, we get to see how life would play out either way, and Jennie Wexler does such an amazing job showing how the trajectories of these different relationships affect each character, and also how those ripples affect other relationships in their lives. I was completely riveted and, of course, had serious opinions about whether Stevie should be with Drew or Shane from very early on in the book. But the thing was, the stories were so well developed there were some aspects that could only happen with one thread, and that just made it all the more gripping.
This book is plotting and character genius, and I will definitely read it again just to see how it's all done. It's also a thoroughly enjoyable story of first love, friendship, and working through hard family stuff too. It's so good, and you should definitely add it to your collection when it comes out tomorrow (July 6)!
---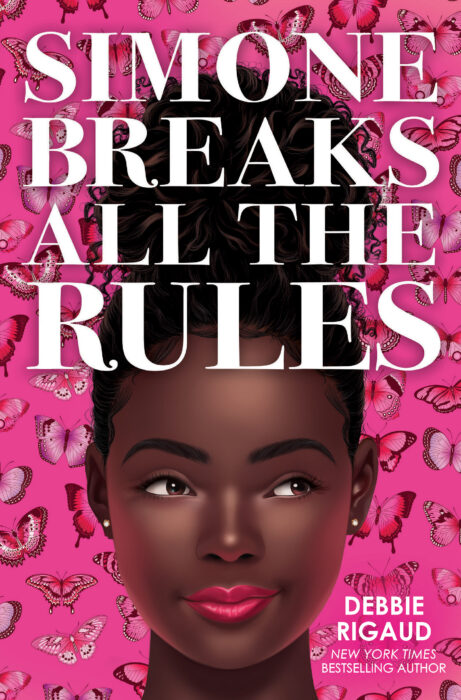 SIMONE BREAKS ALL THE RULES by Debbie Rigaud was one of my most-anticipated reads for this summer, and it exceeded all my expectations! 
The story begins with Simone Thibodeaux at age 13, tagging along with her family to meet her older sister's arranged date for the prom, an appropriate Haitian immigrant boy. Four years later, Simone is determined to choose her own prom date, and along with two other girls at her school who have similarly strict parents, she makes a bucket list of wild things they'll do before graduation.
The romance in the story is really great, but even more, I loved Simone's developing friendships with Amita and Kira and how she navigated her relationship with her best friend/cousin Gabby. I also loved learning so much about Haitian culture and food. Also loved Simone's sense of style. Could definitely use her services!
It's a fantastic story of friendship, family, and finding yourself.
---
I'm all about a good enemies-to-lovers plot, and MADE IN KOREA by Sarah Suk executes it sooo well!
The story follows Valerie Kwon, who (along with her cousin) runs V&C K-BEAUTY, the school's most successful student-run enterprise. And side note: I love how the businesses are set up within the school, with actual suggestions from teacher sponsors on how to be successful. But back to the story… New kid Wes Jung accidentally sells some products in band class (totally makes sense when you read it) and stumbles onto his own business opportunity, becoming Valerie's competitor.
Enter a high-stakes, winner-take-all bet that they're both sure to regret, especially once they start seeing each other as more than competition. I loved how Valerie and Wes each had strong reasons for wanting to win. I loved the characters' arcs, as they both had things they needed learn about themselves and grow during the story. And I couldn't put the book down, anxious to see how it would all end!
So definitely go pick up this fantastic debut read!
---
A female Indiana Jones meets The Mummy? Yes, please! If you haven't picked up CURSE OF THE SPECTER QUEEN by Jenny Elder Moke, what are you waiting for?
The story follows Samantha Knox, who has been working in an antique bookstore ever since her father died in the Great War. When a package arrives containing a diary with very disturbing information, she immediately takes it to the owner, who happens to be the father of her estranged best friend Joana and long-time crush Bennett. 
There are men after the diary, which includes a cypher Sam and Bennett must decode. The shenanigans they get into on their cross-Atlantic adventure to Dublin, Ireland, are definitely worthy of an Indiana Jones movie. And once they arrive, they encounter an ancient order determined to raise the Specter Queen, the Celtic goddess of vengeance and death, to bring on the ultimate war.
Yeah, that would be… bad. 
The adventure is fast-paced and kept me turning pages to see what scrapes they'd get into next. I loved the relationship between Sam and Jo and how they were figuring out their friendship again in the midst of world-altering stakes. Sam and Bennett were adorable with each other too. A hit all around!
If you missed Jenny's debut book, HOOD, last year, it was equally fantastic, so get them both! And in extra good news, this book is the first in a series, so there will be more Samantha Knox to come.
---
Have you read any of these yet? If not, which book intrigues you most? Let me know in the comments!