Happy April!
So, I've completely lost track of when I posted my last review roundup. I went on a re-reading spree in March, and I had two files of middle grade and young adult reviews in progress. But as one of the books I've been meaning to feature comes out next week, I'm going to combine them into a single post.
---
First up is THE LUCKY ONES by Linda Williams Jackson. This wonderful book comes out next Tuesday (April 12!), and I would love to put it into the hands of every middle grade reader I know.
This powerful story follows 11-year-old Ellis Earl, living in the Mississippi Delta in 1967. Ellis Earl dreams of finishing school and becoming a teacher or lawyer and of always having food in the icebox for his eight siblings and niece. His dreams are threatened when his widowed mother says he might have to quit school after sixth grade to work, just like his older siblings have. He draws inspiration from his teacher, Mr. Foster, who shares stories about Thurgood Marshall and Black lawyer Marian Wright. He also loves to read and feels a strong connection to Charlie in Charlie and the Chocolate Factory.
I am about as far from Ellis Earl's experience as you could be, but Linda Williams Jackson drew me into his story so well. I felt his joy when he stepped into the classroom, his satisfaction when his teacher singled him out, his sense of achievement when he recited a passage at his teacher's church, his selfish urge to hoard some things just for himself even when he knew they'd benefit his siblings, his guilt when he knew he was making the wrong choices, and also his love for his entire family. Ellis Earl is so relatable to any kid who struggles to find their own place in the world while still feeling responsible for those they love.
I also learned so much about this time in history on many levels–the struggles Ellis Earl's family faced being both Black and in extreme poverty. The story is set against the backdrop of Robert Kennedy's southern "poverty tour," and Linda Williams Jackson shares in her author's note how she drew on her own experiences growing up in the Mississippi Delta to develop Ellis Earl's story. Yes, it's a serious story, but it's also full of hope and love.
---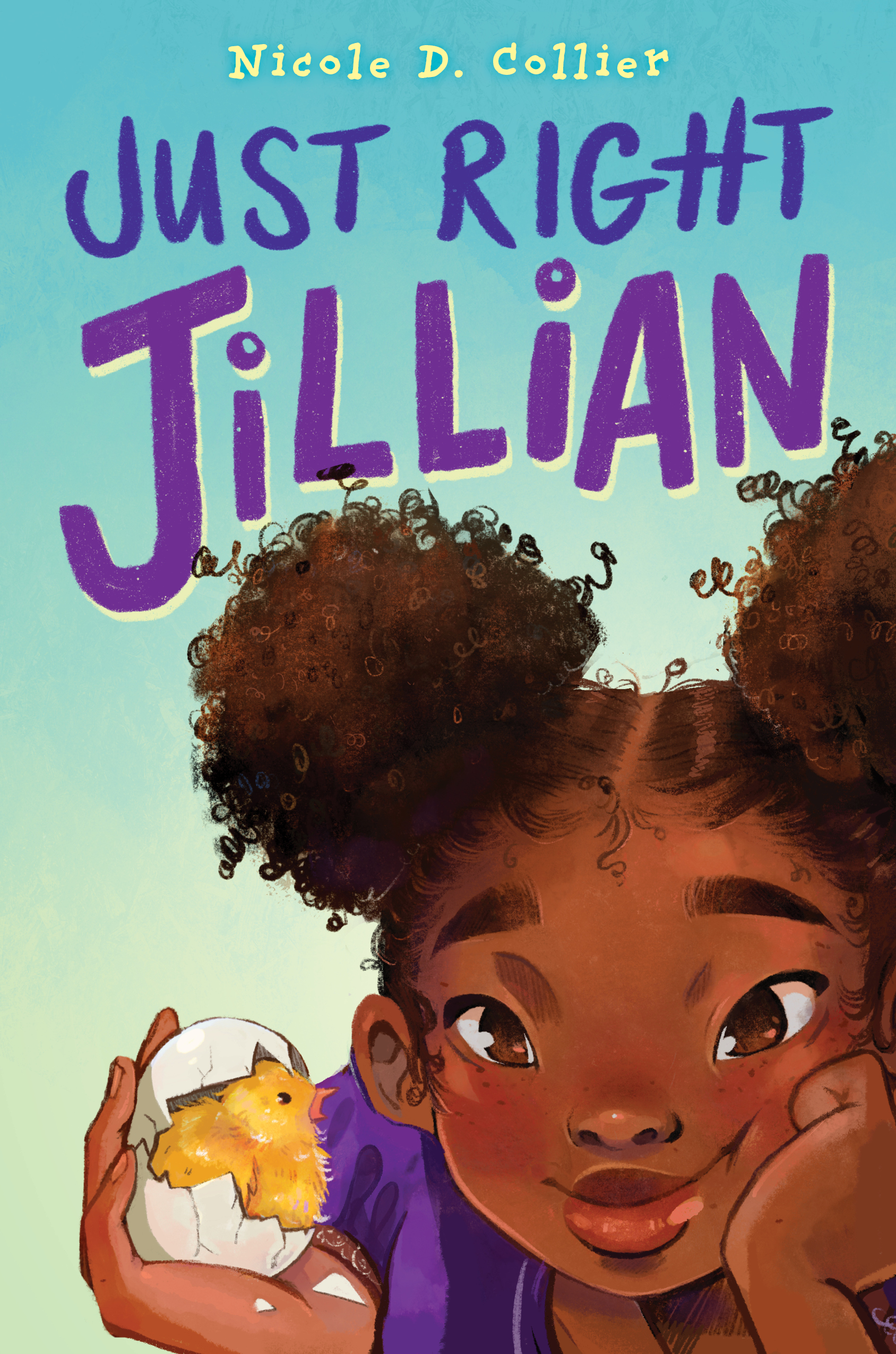 How adorable is the cover for JUST RIGHT JILLIAN by Nicole D. Collier? This book was originally slated to release in 2021 as part of my debut group and was delayed until 2022, but it was worth the wait!
Here's the setup: Fifth grader Jillian is always too shy to raise her hand in class, while her nemesis, Rashida, always speaks her mind. She knows her issue is more than just being shy; she's hiding, as her grandma would say. She wants to be braver, especially as she knows she could be a true competitor in the school's Mind Bender competition. 
I love how this story shows Jillian's genuine struggle with shyness and how her friends and family help her figure out ways to address it in her own way. Also, as you may guess from the cover, the class is hatching chicks, and that subplot is skillfully woven in as a metaphor for Jillian breaking out of her shell. There are also really well-crafted family dynamics not only for Jillian and her parents, but also her friend Marquez and Rashida as well. It's just wonderfully written all around.
---
I think now that I've read SUNKISSED I am all caught up on Kasie West's books!
Here's the setup: Every summer Avery's parents take them on some sort of adventure. This summer—the one before her senior year—they've booked two months at a remote family camp without internet access. It's torture for Avery's social media-obsessed younger sister, Lauren, and also complicates things for Avery, who just found out her best friend kissed her ex-boyfriend (who she thought might not be so ex) and hasn't dealt with it yet.
At camp she meets Brooks, the guitarist for the camp band. As an employee, he's off limits, but it's about more than just a potential love interest, as Brooks challenges her to explore her love for music. See, Avery loves to sing but has horrible stage fright. Of course an opportunity will arise forcing her to confront her fears.
It was sort of like Dirty Dancing meets Camp Rock. As always with Kasie West's books, the romance was fantastic, and Avery also had family issues to sort out. A quick and engaging read!
---
Have I mentioned here on the blog before how much I love Buffy the Vampire Slayer? I feel like it's probably come up at some point. I can pretty much quote the whole movie with Kristy Swanson and Luke Perry, and I own the DVD box set of the show, which came in very useful the multiple times I rewatched it the years before streaming became a thing. Annnyway, I've read other Buffy spinoffs and been… underwhelmed. But IN EVERY GENERATION by Kendare Blake was like slipping into an episode of Buffy with a new generation of characters.
The setup is that Willow's daughter Frankie has been activated as the new slayer after an explosion at the annual slayer retreat leaves them with no slayers. Does this mean Buffy and the others are dead? I mean, Buffy's never really dead, is she? My take… but also not the main focus of the story, which is on Sunnydale, Frankie, her new group of friends, and the demons converging on the town without Buffy there to protect it.
I loved how Frankie is her own sort of Slayer learning her powers. Spike is her watcher, and while he's not my preferred soul-infused vampire, I enjoyed his character here. Willow is obviously a prominent character as Frankie's mom, and Oz is also in the picture as part of the team and uncle/cousin to Frankie's childhood werewolf friend, Jake. Two others round out the team, and there are also checkins from Xander.
This book is the first in a series, so not all questions were answered, but there were plenty of battles and quips and I can't wait to see where it goes and also hopefully see Frankie interact with more characters from the original series (Angel, please!!).
If you're a Buffy fan–or even if you aren't–it's a fun read!
---
I'll try not to wait so long for my next review roundup. I already have one book waiting in the wings for the next one.
What have you been reading lately? Anything I should add to my TBR?