Hey everyone!
So, I was a bit shocked when I looked back at my blog and realized the last time I posted YA mini-reviews was the end of July. Three months might be my longest stretch ever! At least I did toss in some middle grade reviews in between. The fact is, while I was still reading, my book release got in the way of actually sitting down and posting anything else. But, fortunately, I have been stockpiling some reviews, so you get a whopping six reviews all at once!
Per my usual reading tendencies, there's a lot of YA romance, but there's also some dystopian, historical fiction, and thriller. So depending on your taste, hopefully you'll find something that's of interest.
---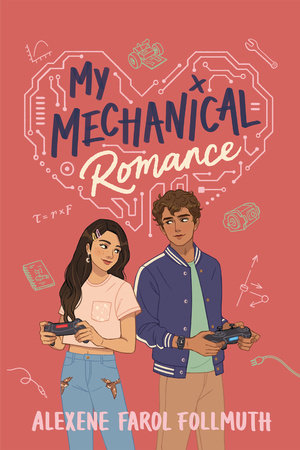 I discovered MY MECHANICAL ROMANCE by Alexene Farol Follmuth through our shared cover artist, Jacqueline Li, and I'm so glad I did! This book follows Bel, who's just moved to a private school for her senior year after her parents' separation. No one ever expected much from her at her old school, but when a teacher sees Bel's innate talent for engineering, she encourages her to try out for the robotics club.
Bel doesn't mean to ace the challenge to join the club, but when the captain, Mateo, sees her design, he sees her potential too. You can tell from the cover and title that it's obviously a romance between these too, but it's so much more. The story is told from both points of view, and Bel and Mateo both have a lot of things to figure out during the story before they can get together. Bel doesn't really know who or what she wants to be. And Mateo is a little too sure of himself.
I loved seeing both of them grow and develop during the story. There's also some serious family stuff going on in the background. Plus, I learned a ton about robotics! Definitely check out this book for a unique and romantic read.
---
I adored LOVE & OTHER GREAT EXPECTATIONS by Becky Dean.
I was an English lit major, so I'm obviously going to be on board for a story about a group of teens sent on a scavenger hunt through the English countryside, following clues to the locations of classic novels. There's Jane Austen, Shakespeare, Arthur Conan Doyle (okay, Sherlock Holmes), Charles Dickens, Tolkien, C.S. Lewis and more. It made me want to do a few classic lit re-reads.
But also, I just really enjoyed Britt's story. She's lost her soccer career and doesn't feel like she's good at anything else. She meets Luke on her journey; he has his own issues, but together they both start to figure out who they want to be and what's next. The romance was great, but the individual character arcs were too. Love the supporting characters as well.
---
If you're looking for a dystopian series with strong female characters, a tension-filled love triangle, and non-stop action, check out the The Deception Game series by Kristin Smith. It starts with CATALYST, and the fourth book, UNBREAKABLE, released in July.
I love how Kristin delves into the minds of new characters with each book, starting with Sienna in the first book and adding a new point of view in each installment. This latest book adds a fourth character, Trina (pictured on the cover), and she adds a vital perspective to the story as the characters fight for their lives and freedom within a new country that may not be any better than the one they escaped.
Oh, this is hard writing a review for the fourth book! Basically, you should start at the beginning and keep going. Because I don't want to spoil anything for you. But like I said, if you like page-turning dystopian books, this series is for you!
---
I've talked about THE INHERITANCE GAMES and THE HAWTHORNE LEGACY here before, so it should be no surprise that I was anxiously awaiting THE FINAL GAMBIT by Jennifer Lynn Barnes. What made it even more exciting is that Jennifer Lynn Barnes came to St. Louis on tour, so I got to listen to her talk about the series and then meet her. Actually, my whole family came along because we've all read the books. They're that's fantastic.
Anyway, THE FINAL GAMBIT is the conclusion to the trilogy, and it delivers on all counts. More secrets are revealed. Lives are on the line. The romance is believable and comes to an expected conclusion.
Best of all, Jennifer Lynn Barnes has announced a new series set in the same world, so it doesn't really have to end. I'm so excited to read more stories from the Hawthorne brothers!
---
I'm also a huge fan of how Cynthia Hand, Brodi Ashton and Jodi Meadows rewrite history, first in the series of Jane books and now they're tackling Marys. MY IMAGINARY MARY is the second of the aforementioned Marys, focusing on Mary Shelley, the author of FRANKENSTEIN.
If you haven't read any of these books, you can start wherever you'd like. They stand alone, although there were two that sort of occurred in the same world but were still independent. Anyway, the idea is that they take a story from history and, in their words, make it better–usually with some kind of magic thrown in.
Quite honestly, aside from writing a truly classic novel that is one of the first science fiction stories and also makes you think hard about how monsters are created (if you haven't read FRANKENSTEIN, you should!), Mary Shelley had some major struggles. The authors always take multiple points of view, and in this case they decided Mary would be friends with Ada Byron (later Lovelace), often regarded as the first computer programmer. The third POV is the boy they create–that's where the magic comes in.
Anyway, this book is just as delightful as the others in the collection. Just don't expect to write any history reports from it!
---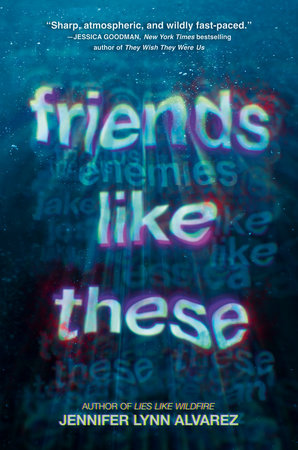 I read this FRIENDS LIKE THESE by Jennifer Lynn Alvarez in two sittings, but it probably would have been one if I'd had a bigger block of time.
FRIENDS LIKE THESE is a YA thriller set in a Northern California coastal town. A group of friends is about to start their senior year. Jake and Jessica have been dating for 10 months. He wants to go to an end-of-summer party at his ex-girlfriend's house. She doesn't enjoy parties and especially doesn't want to go there–because it's also her ex-best friend (although from way before she dated Jake).
Everything spirals out of control in seriously disturbing ways at the party–like the lives-are-being-destroyed publicly kind of way. It's told in alternating viewpoints from Jake and Jessica, and I couldn't stop turning pages to see what they were going to choose to do next. Beyond the central story of discovering who's behind the crimes (yes, multiple), there's a serious look at bullying and consent and what happens when rivalries are taken too far. Also, the last two lines in the book? Perfection.
FRIENDS LIKE THESE comes out a week from tomorrow on Nov. 1 and is perfect for anyone who enjoys a high-stakes thriller!
---
What have you been reading lately? I'm always up for adding to my TBR stack!